My (First) Worst Day Ever As A Single Mom
by Melisa R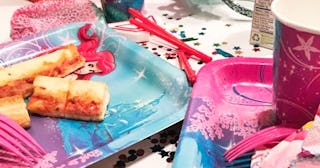 Courtesy of Melisa R
I'll never forget the first time I went to a kid's birthday party as a single mom. My daughters were aged three and two (and my divorce was just about one) when the invitation showed up in the preschool cubby. All the kids in my daughter's class were invited to one of those birthday party factories. You know the kind: two dozen children are shoved into a padded room to jump around, maybe puke a little, eat pizza and cake, and wake up with stomach flu or scabies 24 hours later.
I was still adjusting to our new life in a new town, and the thought of socializing with a bunch of moms I didn't know gave me anxiety. But my daughter, Dylan, was a shy kid and I knew this party would be good for her, for both of us. So I dropped off my youngest daughter, Jane, with her dad, and Dylan and I made our way to the event.
When we walked into the party, the first thing I noticed (or rather the second — the first thing was that the facility had a "no shoes" policy, which was unfortunate, given the state of my unkempt feet) was that every mom at the party was accompanied by her husband. Every single one, except for one woman, whom I got the courage to introduce myself to. Her name was Lisa. I don't know if it was my anxiety over feeling like the only single mom in the room or Lisa's genuinely inviting demeanor, but before I knew it I was telling her that I'd recently gotten divorced.
I didn't plan to share this news, but suddenly it was there — "the big D" — and it was awkward. Really awkward. Like, elephant-in-the-room-who'd-just-let-out-a-giant-fart awkward. I don't know why. I think it was me — ALL me, all in my head — because Lisa was nothing but lovely and empathetic. But still, I felt warm… and red in the face… and so, naturally, I went on to share more.
I told Lisa that I was now renting. "We bought in 2008! Height of the market! Took a huge hit!"
I told Lisa that my ex and I get along famously. "Our kids are happy and healthy! That's all that matters!" mmmkay.
I was right in the middle of telling Lisa about every. single. job. I've held. since the year 2005 when Dylan interrupted to tell me, quite loudly and enthusiastically, "This pizza's going to make my poopie soft, Mommy!"
Moments later when Lisa passed me a slice of birthday cake, I told her, "No, thank you! As much as I'd love to, I've recently discovered I'm hypothyroid. My doctor says that a gluten-free diet is best for my condition!"
Shut. The f#*k. Up.
Just when party bags were being distributed and I thought my nightmare was over, I felt a tap on my shoulder and turned around to see my ex holding Jane and looking pale in the face. "Sorry I'm early," he said, handing her to me. "It's almost 1:30. My stomach hurts. I have to take a shit." Can you guess who was standing right behind him? You betcha! Good old Lisa.
A single tear formed in my eye.
I put Janie down so she could enjoy the last few moments of the party with her sister while I went off to gather our coats and shoes to leave. Just as I was waving goodbye to my new friend Lisa, I heard the faint sound of a child crying from waaaaay up high in the three-tiered jungle gym. I scanned the room and saw Dylan, but I couldn't find Jane. So I walked over to the giant climbing structure, my eyes frantically darting back and forth to determine if the sound was coming from my child, the child who had just crashed the tail-end of the birthday party. And as I approached the edge of the structure, I gasped — high up in the sea of foam and netting stood Jane, sobbing as a stream of urine cascaded down like a waterfall from her legs onto the mats some 15 feet below.
The urine was loud and strong. It bounced off of the mats and formed a dark stain on the carpet beneath me. I had no choice but to climb up into the jungle gym — a series of nets and tunnels and angry foam blocks — to reach my dear child, who was now hysterical, at the farthest end of the structure. It was her first accident in at least a month, so I had no change of clothes and had to call the ex and plead with him to drive back to the party and bring me a dress from inside my car.
As I struggled to calm my child, I looked down to see her dad hobbling into the room, Jane's dress and undies in one hand, his other hand gripping his stomach, as if his own insides might fall out at any moment. I then navigated my way back through the Obstacle Course of Fear and Shame, reached my hand through one of the mesh nets to grab Jane's spare clothes, and crawled back through the maze to change her and mop up the puddle of urine. As we climbed out, a trail of wet footprints formed behind us like a scene from Hansel & Gretel: The Incontinent Years. I grabbed Dylan and the three of us bolted.
As luck would have it, Jane's dad had fed her a well-rounded lunch of "Mickey Fruit Snacks," and so I drove home from this celebration of human excrement with one child buzzed with a birthday cake high and the other screaming of starvation from the seat behind me. When we finally got home, I shoved some pasta in front of my kids and spent the rest of the day rocking back and forth on the couch like Girl, Interrupted.
I hope this tale gave you a few laughs, and I do plan to share it with Dylan and Jane's future prom dates, since (1) talk of fecal matter tends to deter young people from having sex, and (2) we do not need another person in this family driving off into the sunset with her high school prom date.
This article was originally published on