Buy These Floaty Pants So You Can Party In The Pool, Because YOLO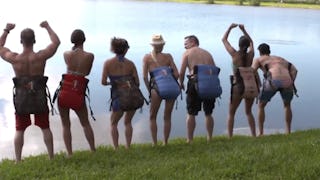 Image via Floaty Pants
Floaty Pants are here to save summer
Sometimes the internet brings us totally ridiculous things we definitely don't need, but since when has that stopped us from making them our own? The latest offering in strange online shopping treasures is Floaty Pants, the personal party floatation device we never knew we needed.
Floaty Pants are billed as a "hands-free party floatation device" and if you've ever tried juggling a drink in a sketchy pool float that could tip with barely more than a stiff breeze, you know how valuable this could be to your water shenanigans. It's pretty much like an adult diaper that keeps you upright without all the miserable, calorie-expending movement treading water requires.
So the "pants" strap at your sides and help you stay afloat in the pool or lake so you can enjoy water life without dramatically falling off a pool noodle like that poor dude in the video who looks like he's being sucked down under by the Loch Ness Monster. Solid acting job, bro.
As the video proves, Floaty Pants can allow you the freedom to read, go fishing, get crunk with pals, or just hang out — all without having to move a muscle. We could also see these coming in handy to supervise our kids in the water. Sign. Us. Up.
Of course, the video's comments section is full of very special internet killjoys boasting of how they already knew that turning a life jacket upside down accomplishes pretty much the same thing, so SAVE YOUR MONEY. Few things, miserable people of the world wide web; first of all, many adults don't own a life jacket. Second of all, do you hate joy, Karen? And does your sensible life jacket give the appearance of a cartoon thong resting below your back tat while crawling up your perfectly pert rear end?
We think not.
There are times where practicality can pretty much go fuck itself, and this is one of those times. Do we need Floaty Pants? Probably not. Should we still buy them? By the god damn dozen.
Floaty Pants come in several other designs including:
The ever-so-sensual Ab Man.
The carefree and breezy Maui Man.
And of course, 'Merica.
And if those designs are all a bit too ostentatious for your vibe, they also offer plain red or blue. Oh, and camouflage. If you're in a lake, you might want to do a hard pass on those in case of gators. Not the time to blend in, party people.
If this appeals to you, they're available online for the eminently reasonable price of $44.95. Happy floating!
This article was originally published on