Florida Concert Charging $1000 Per Ticket If You Aren't Vaccinated
by Erica Gerald Mason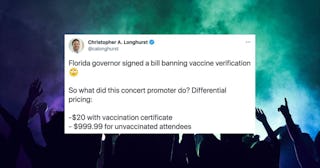 Getty/Twitter
If you are vaccinated, tickets at one Florida venue are $18, but if you are not, they are $1,000
Many states have announced vaccine lotteries — and companies like Krispy Kreme have offered incentives for vaccinations. Dating apps have also begun allowing users to share their vaccination status, all in the name of encouraging people to get the shot. After Florida Gov. Ron DeSantis signed a law forbidding the use of what some call "vaccine passports," a Tampa Bay concert promoter decided to creatively motivate his community to get vaccinated by providing $18 discounted tickets in exchange for vaccinations, and charging $999.99 for those who have not gotten vaccinated.
Promoter Paul Williams came up with the idea as vaccination appointments became more accessible in Florida, he told ABC News. Williams wanted to plan a concert that could be enjoyed by all after the coronavirus pandemic shut down most outdoor concerts in the city over a year ago.
"I also wanted it to be a vaccine drive to get the fence-sitters off the fence," Williams told the outlet after posting the vaccinated ticket prices on the event's Facebook page. "I wanted to get the kids that want to go to shows to go out and get their shots."
Ticket prices for the vaccinated are $18 and ticket prices for those who have not gotten vaccinated are $1000.
Concert goers can see the performance on June 26 at the VFW Post 39 in St. Petersburg, Florida. Three punk rock bands will perform, Teenage Bottlerocket, MakeWar, and Rutterkin.
This Twitter user approves. "Florida governor signed a bill banning vaccine verification," the post reads. "So what did this concert promoter do? Differential pricing: $20 with vaccination certificate, $999.99 for unvaccinated attendees. Love this! #VaccinesSaveLives."
Nation-wide campaigns are underway to promote widespread vaccinations to slow the spread of the COVID-19 pandemic.
Over half of all adults in the United States have been vaccinated against COVID-19. However, despite the U.S. pandemic death toll approaching 600,000, a recent ABC News/Washington Post poll found that nearly one in four Americans is still unwilling to get a coronavirus vaccine.
Maybe the higher ticket prices will encourage people to reconsider their vaccine hesitancy. At least, that's what Williams is hoping. There are some 250 reduced tickets available for vaccinated patrons, compared to just four of the higher-priced option. Williams said that nobody has purchased the $1,000 tickets yet.
Williams said the local music scene's reaction to his initiative has been "overwhelmingly positive." However, he has received negative comments from a host of anti-vaxxers who allegedly obtained his phone number and bombarded him with spam messages.
"To care about people being safe is very bad apparently," Williams said.
Some people support his efforts. "Genius! Planning an event? Offer a huge discount for those who got all needed doses of #COVID19 #vaccine by a certain date & have proof of #vaccination at purchase," a Twitter post reads. "Incentive to #GetVaccinated & a safer event! #Vaccinated? $18 tickets! No vax? $1000!"
The promoter said he isn't denying entry to unvaccinated concertgoers, saying, "You can buy a full-price ticket."