Police Take To FB To Shame Dad For Stealing Diapers, Internet Comes To His Defense
by Kristina Johnson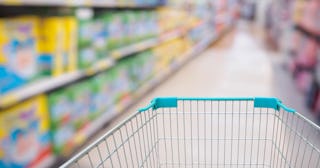 Kwangmoozaa/Getty
The truly heartbreaking tale sparked an outpouring of sympathy for the desperate dad
"So when your card is declined and you try another one with the same result, that is NOT license to just walk out with the items anyway," police in Winterhaven, FL wrote in a September 18 Facebook post per the Washington Post, asking for help to identify a suspected shoplifter.
But the post didn't go down quite the way cops thought it would — angry comments started rolling in fast, because it wasn't just any suspect. It was a dad who'd made a desperate choice when trying to buy diapers with his two kids in tow.
Police described how surveillance video showed the man holding one child in his arms and clutching another by the hand as he tried to pay for their items. Any mom or dad would easily see how awful that situation would be for a parent. Police, however, just seemed to see a lawbreaker.
The whole tone of the post is a bit heartless. "Poor little kids had no idea," police wrote, referring to the alleged theft. Kids often have no idea of the lengths parents will go to keep them safe and secure. How many of us might have done the exact same thing if we felt we had no other options to get what our child needed? You can have understanding and compassion for the circumstances without condoning the act.
The Winterhaven P.D. post was inundated with comments demanding they show a little sympathy for a dad who was clearly in a very bad spot, many from people offering to pay for the stolen items if the police left the man alone. That included a Kansas teenager named Elizabeth Fiedler, who hit the nail on the head in an interview about the viral story in the Post. "No one wants to be poor. No one should ever feel the need to steal out of necessity in one of the world's richest countries," she said.
Police released a statement a few days that didn't do them any favors. "Many people are upset with the police department [but] Walmart is the victim and they asked us to file the report and they want to press charges," the department's public information office Jamie Brown said in a statement. There's certainly an irony in sympathetically calling Walmart — a massive, multi-billion dollar corporation — the victim, while at the same time having little to no regard for the father.
The police deleted the original post, but they issued a final follow up on the 23rd saying the man in the surveillance images was found.
"We know everyone is enthralled with the case of the Walmart shopper who walked out without paying after three attempts with three different cards," a Facebook post said. "We did receive a tip of his identity this morning and we made contact with him. We also have been speaking with Walmart and they have signed a waiver of prosecution, meaning no charges will be filed. We delivered this news to the citizen. We also told him of numerous resources available to include the Police Department." Maybe that could have/should have been their goal in the first place? Find and help, instead of find and punish?People who weighed in on that post were relieved to see that the dad won't be prosecuted — but wish it hadn't taken an attempt at public humiliation to reach that outcome.
If you or someone you know needs affording diapers, you can visit the National Diaper Bank Network for help finding assistance.