Florida Sheriff Defends Actions During School Shooting: 'Of Course I Won't Resign'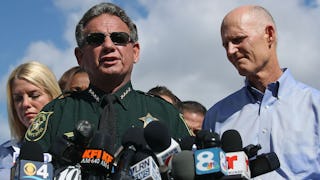 Image via Getty Images/Mark Wilson
People are asking for Sheriff's Deputy Scott Israel's resignation
Recent tension over the handling of the mass shooting at Marjory Stoneman Douglas High School in Parkland, Florida, on February 14 has some calling for Sheriff's Deputy Scott Israel's resignation. The resource officer, as well as three other Broward County Sheriff's deputies did not immediately enter the building during the shooting and that, some say, is the responsibility of Israel.
According to multiple reports and recent video evidence, Broward County Sheriff's Deputy Scot Peterson, the armed school resource officer at the scene, took cover outside for "upwards of four minutes," while the shooting took place according to the New York Times.
Additionally, three other Broward County Sheriff's deputies also responded while the shooter was inside the school, pistols drawn, but did not enter the school, CNN reported.
Shortly thereafter, nearby Coral Springs police arrived and entered the building. Additional Broward County deputies then arrived on the scene and joined Coral Springs inside.
But for some, it was too little, too late.
"Coral Springs police were stunned and upset that the four original Broward County Sheriff's deputies who were first on the scene did not appear to join them as they entered the school," CNN reported. What Coral Springs police observed on February 14th will be released in full in a report next week.
It is something to consider that armed and trained officers decided not to go into the school during an active shooter situation but we are currently entertaining arming teachers whose job it is to teach our children, not take down a gunman.
Those same people seem to believe if we arm teachers, shooters would be more hesitant to enter places of education to gun people down because they would feel "threatened" versus feeling entirely comfortable entering "gun free zones." Except more often than not, these shooters kill themselves. They are not afraid of dying. Arming teachers won't deter shooters, it will simply introduce more guns, and potentially more death.
Sheriff Israel publicly denounced Peterson actions, saying in part, "What I saw was a deputy arrive … take up a position and he never went in," Israel said at a news conference. He should have "went in. Addressed the killer. Killed the killer." Peterson has since resigned.
"Do I believe if Scot Peterson went into that building, there was a chance he could have neutralized the killer and saved lives? Yes, I believe that," Israel told CNN's Jake Tapper.
But Israel is not planning to step down anytime soon. "Of course I won't resign," he told Tapper. When asked if he takes any responsibility for the tragedy at Stoneman Douglas, Israel said, "I can only take responsibility for what I knew about. I exercised my due diligence. I've given amazing leadership to this agency."