At Least 1300 People Have Died From The Flu Since October
by Leah Groth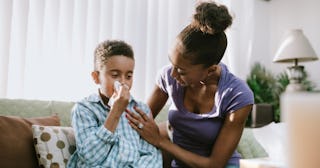 Getty Images
According to the latest reports from the CDC, the 2019-2020 flu season is going to be one of the worst in recent history
We are just over two months into the 2019-2020 flu season, and so far a staggering amount of people have lost their lives due to the highly contagious virus. According to the latest statistics released on Friday by the United States Centers for Disease Control and Prevention, anywhere from 1300 to 3,300 have died from the flu. Even more worrisome is that experts worry that these high early flu season estimates signify the start of one of the worst flu seasons in history.
In addition to the overwhelmingly high death toll, the CDC reports that there have been between 2.6 to 3.7 million flu illnesses, 1.2 to 1.8 million doctors visits, and 23,000 to 41,000 flu-related hospitalizations. There have also been reports of 10 children dying from the flu.
Experts are worried that because there has been such devastation early on, we are going to experience one of the worst flu seasons ever."This season is off to an early start, earlier than any season this decade," Dr. Bryan Lewis, professor at the University of Virginia, wrote in an email to AccuWeather. "You have to go back to 2003 before you have as much active transmission in early December as we have now."
In the week ending December 7, the flu spread rampantly across 49 out of 50 states, with widespread flu activity in 23 states: Alabama, Arizona, California, Connecticut, Georgia, Idaho, Indiana, Kentucky, Louisiana, Maryland, Massachusetts, Nebraska, Nevada, New Mexico, New York, North Carolina, Oregon, Pennsylvania, South Carolina, Tennessee, Texas, Virginia and Washington. Some states — Alabama, Georgia, Mississippi, Nebraska, South Carolina, Tennessee, Texas, Washington and Puerto Rico — experienced the highest level of flu activity.
University of Virginia doctors have also noticed another interesting trend this flu season — the dominance of Influenza B (via AccuWeather). While Influenza B is less serious than A, with less hospitalizations and death, it still causes significant illness.
"That's the extra-odd thing about this season is at the moment it's being driven by Influenza B," Dr. Lewis said. "These are two sibling viruses that are distinct diseases, though they're very similar. Influenza B is generally less severe and most seasons trails Influenza A, often with a small peak of activity in late winter and early spring."
The best way to protect yourself from the flu is to get the flu shot. "Everyone 6 months of age and older should get a flu vaccine every season with rare exception," states the CDC. Why? "It can reduce flu illnesses, doctors' visits, and missed work and school due to flu, as well as prevent flu-related hospitalizations. Flu vaccine also has been shown to be life-saving in children," they explain, adding that a 2017 study showed that the flu vaccination can significantly reduce a child's risk of dying from flu.
Despite the urging of the top health organization in the country, many people opt against getting themselves and their children vaccinated. A report earlier this year found that only 50 percent of adults planned on getting a flu shot, with the CDC expecting only 40 percent to follow through.
If you haven't gotten vaccinated this flu season, it isn't too late! Use this latest report from the CDC as motivation to walk into your local pharmacy, urgent care, or doctor's office and get that flu shot!