Brace Yourselves, Because This Nightmare Flu Season Isn't Over Yet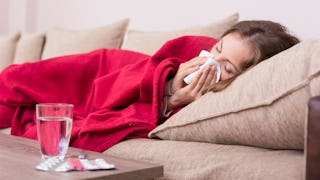 Image via vladans / Getty
It may be Spring, but flu season is far from over
Spring is here! The flowers are starting to bloom. The sun is shining on the regular. And you still need to keep your house stocked with tissues and Tylenol. That's right — even though Spring is here, the end of flu season is not. What's even worse is that this year's flu season may get a second wave, so even if your family has already battled the bug once this year, they may be in for another fight. The chorus of "Ughs" we're hearing is almost deafening.
According to the Centers for Disease Control's weekly flu report from March 17, the A-strain of the virus is finally starting to decline. But just as that good news is coming, the B-strain of the virus is starting to pick up, and more and more cases are being seen. That means that even if your family has had the A-strain, you're all still susceptible to contracting the B-strain, which is bad news for those with small kids, as a CDC representative told CNN, "We know that illness associated with influenza B can be just as severe as illness associated with influenza A. We also know that influenza B tends to be more severe for younger children."
The rep went on to say that's not uncommon, but it could make for a rough end to the flu season nonetheless.
"We often see a wave of influenza B during seasons when influenza A H3N2 was the predominant virus earlier in the season. Unfortunately, we don't know what the influenza B wave will look like," she said.
So how can you protect yourself and your family? If you still haven't gotten your flu vaccines, there's still time, and you should do that ASAP. You can also remind your kids of all the best practices for halting the spread of cold and flu viruses, like frequent hand-washing, coughing into a tissue or elbow instead of their hands, and avoiding touching their faces. And, as always, remember to eat healthy foods, stay hydrated and get plenty of rest whether or not you're sick — that's your body's first line of defense against the flu.