Football Player Will Serve No Jail Time For Sexually Assaulting Disabled Teen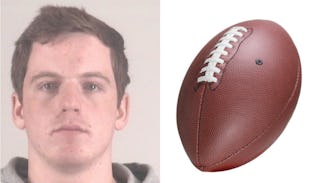 Images via Tarrant County, Shutterstock.
The teen was originally charged with sexual assault but pleaded guilty to lesser charges to avoid jail
A white high school football player who was charged with sexual assault after allegedly raping a black, disabled teammate with a wire hanger has avoided jail time thanks to a plea deal that should have never been offered. The case is horrific, but the complete lack of effort on the prosecutors' part to seek justice for the victim is sickening.
In October 2015, John R.K. Howard tricked the victim into thinking he wanted a hug. Then he and two of his teammates at Dietrich High School allegedly held the victim while shoving a wire hanger into his rectum and kicked it several times, the Twin Falls Times-News reported. When Howard was initially charged he faced up to life in prison. But thanks to a plea deal that should have never been made, this young man will go largely unpunished for his horrific actions.
In exchange for his guilty plea to one felony count of injury to a child, he'll only be sentenced to two to three years of probation and up to 300 hours of community service. "We don't believe it's appropriate for Mr. Howard to suffer the consequences of a sex offender," Deputy Attorney General Casey Hemmer had the audacity to say in court. Hemmer's job is to hold the attacker accountable for the pain he inflicted on the victim. It isn't his job to make sure Howard doesn't suffer the consequences he very clearly earned. Prosecutors tried to defend their blatant disregard for the law by saying Howard's actions weren't a sex crime. If raping someone with a wire hanger isn't a sex crime then what the hell is it?
Apparently, Howard and his friends harassed the victim well before the attack as well. They allegedly called him racial epithets like "watermelon, chicken-eater, and n***er," according to The Guardian. Howard's also accused of posting a confederate flag on the victim's computer and forcing him to recite a Ku Klux Klan song that references lynching, KTVB reported. Because of all of this abuse, the victim's family filed a federal civil rights lawsuit against the high school and school administrators for not ending the discriminatory harassment before it escalated to a brutal attack. "How this can be anything other than a sexual assault is beyond my comprehension, and I have been prosecuting and defending sex crimes for 40 years," explained R Keith Roark, the victim's attorney in the civil case.
Roark and the victim's family were outraged to hear that the prosecutor put the attacker's best interests above justice for the victim. "The plea agreement is an abomination, and the in-court comments of the prosecutor, if accurately reported, reflect a perverse compassion for the perpetrator of a sickening, violent act rather than a concern for the young man whose life has been turned upside down by group violence," he said. To make matters worse, the prosecutor crafted the deal so that Howard could have his conviction dismissed in the future.
"Upon successful completion of probation, including no proven or admitted probation violations or new crimes, the State will stipulate that the Defendant's conviction be reduced to a misdemeanor," the plea agreement read. "Defendant will be free to argue that the guilty plea be set aside and the conviction be dismissed."
Your schools failed to protect a disabled teen, Idaho, and now your civil servants have failed to do their jobs. The Idaho Coalition Against Sexual & Domestic Violence demanded Idaho Attorney General Lawrence Wasden take immediate action against Hemmer's "outrageous and unacceptable behavior and statements." The group added: "Nothing short of a complete retraction by the Attorney General of Hemmer's outrageous actions and statements and immediate action against Hemmer will be acceptable."
This article was originally published on