How Foster Care Adoption Work — Your Steps To Getting Started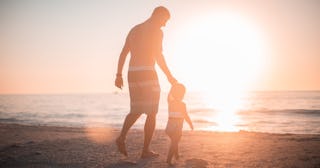 Derek Thomson/Unsplash
If you're looking into different ways to become a parent, you've probably considered adoption. But have you thought about foster care adoption? With more than 100,000 children and teens in the foster system in the United States, it's worth exploring foster children up for adoption. If you're not familiar with this country's foster care system, you probably have a lot of questions about adoption from foster care, like what the process involves, how much it costs, and whether you're able to foster to adopt a baby.
Before starting, it's important to have a basic understanding of all the steps involved with foster care adoption and check the laws around the subject in your state. And you're not alone in your search for more information. In fact, according to the latest search data available to us, foster care adoption is searched for nearly 5,4000 times per month. However, if you find you have questions specific to your situation, your first course of action should be to contact a social worker who can answer all your queries.
If you're looking for more info on other types of adoption, you can find our guides to embryo, open, closed, private, adult, international, transracial, step parent, military, single parent, Jewish, Christian, and same-sex adoption.
Adopting children in foster care
Though more than half of children that are put into foster care end up back with their birth parents, there are still plenty of others — especially older kids — who still need a home. On paper, the process of adopting foster children is similar to traditional adoption, with a few exceptions. First, chances are pretty slim that you'll be able to adopt a baby in foster care. Most foster children are between eight and 21-years-old when they're adopted, with a median age of eight. Next, you have to keep in mind that most — if not all — children in foster care have experienced some level of trauma. That means that as an adoptive parent, you would need to go to specialized training in how to understand the impact of trauma on children and learn how to best support them. Lastly, adopting children in foster care costs little to no money, thanks to various grants and other financial assistance.
How long does it take to adopt from foster care?
As you can imagine, with so many different people and moving pieces involved, adopting children through foster care can take a while. According to Adoptive Families, individuals or families just starting to look into adoption and/or foster care should expect to spend between nine and 18 months to complete the inquiry, orientation, preparation classes (typically 24 to 30 hours over the course of several weeks), and home study requirements.
What makes up a home study for adoption?
Home studies are a required step in most types of adoption so being prepared and knowing what will be expected of you is imperative to completing one successfully. A home study is more than just a conversation with a social worker or an agency and state representative and will call for prospective parents to gather certain documents together.
In addition to home visits and interviews with a social worker, a home study will call for the foster and adoptive parent's health documents and income statements. Prospective foster adoptive parents will need to draft autobiographical statements detailing the story of their life, allowing the social worker and state representatives to get to know them better. The home study also calls for background checks for anyone over the age of 16 in the household.
Adoptive parents will also need to provide references from three or four family members who can attest to why they will make the perfect candidates for foster parents.
What are the benefits of fostering before adopting?
If you're considering adopting a child in foster care, you may wonder if you're able to foster the child before officially adopting them. The answer depends on the state you live in, but for most states, foster care and adoption exist on a continuum, and it's recommended that parents foster before they adopt. And though fostering and adoption regulations can vary by state, you are able to foster children from other states.
Though you may have your heart set on permanent adoption, there are several benefits of fostering before you adopt a child or teen. First of all, both the parents and children will have the opportunity to figure out if they're a good fit. The foster period also allows the family to bond, which means the child moves around between houses less, and the foster parent or parents get firsthand experience dealing with a child who has undergone some amount of trauma.
A potentially complicated part about fostering to adopt is that foster parents — even those looking to adopt — have to be ready and willing to return their foster children to their birth parents if courts decide that it's in their best interest. This can obviously be a very difficult and painful decision, so it's something to consider before going this route.
Have you considered fostering to adopt an older child?
You've probably daydreamed of fostering and/or adopting a baby or younger child. But, what about an older child or teenager? If you're looking for a way to meet the needs of our society, opening up your home to someone who may not be as cute and pliable as an infant is a genuinely helpful move. According to NFYI, every year more than 23,000 kids will "age out" of the US foster care system. What does that look like exactly? At the age of 18, kids are no longer eligible for foster care services and roughly 20% of those children will become instantly homeless. Were you homeless at 18? Can you imagine what your life would look like today if you were? Fostering and adopting a teenager comes with a whole different cluster of stress. You were a teenager once, so you might have a general idea of what you're in for. Add in the trauma experienced by most foster kids and you could be in for a ton of work. But, isn't that what parenting is all about? If you think you have the mental and emotional fortitude to support a tween or teen, so they don't celebrate their 18th birthday on the streets, consider trying it.
Though there's no magic formula to making the perfect family, according to Adoptive Families, "Adoptions appear to be more stable when parents have flexible and realistic hopes and expectations for their children and when they make use of any post-adoption supports that are available to help with learning, medical, behavioral, or emotional challenges."
So like any other aspect of adoption, doing your research ahead of time will help determine whether foster care adoption is right for your family and if you're ready to begin this journey.
This article was originally published on