This Foster Dad Only Takes In Terminally Ill Children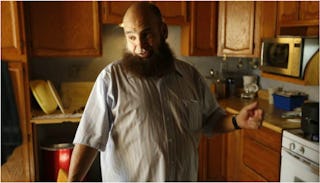 Image via Go Fund Me.
'I know they are sick. I know they are going to die.'
A Los Angeles County foster care dad has dedicated his life to helping terminally ill children. Mohamed Bzeek has been a foster father for more than two decades and has helped more than 10 children live out their final days surrounded by love.
L.A. county's Department of Children and Family Services is responsible for 35,000 children. Of those foster kids, 6,000 need help from the Medical Case Management Services, which helps children with the most severe medical issues, the L.A. Times reported. "If anyone ever calls us and says, 'This kid needs to go home on hospice,' there's only one name we think of," explained Melissa Testerman, a DCFS intake coordinator who places the kids. "He's the only one that would take a child who would possibly not make it." The other children usually live at medical facilities or are placed with nurses who've become foster parents.
Right now Bzeek takes care of a 6-year-old foster girl who has encephalocele, a rare brain malformation. She's blind, deaf, paralyzed in the arms and legs and has daily seizures. "I know she can't hear, can't see, but I always talk to her," he shared. "She has feelings. She has a soul. She's a human being." Bzeek has cared for her since she was a month old. He fostered three other kids with the same condition. "These kids, it's a life sentence for them," he said. Outside of church and hospital visits the 62-year-old Libyan-born Muslim rarely leaves the house. And while their days are heavily focused on her medical issues, the family did celebrate her sixth birthday recently with a cheesecake and candles. She wore a red dress and matching socks for the occasion. "Yay!" Bzeek said, cheerfully. "You are 6! 6! 6!"
The foster dad to California's most fragile children came to the United States as a college student in 1978. Eventually, he met a woman named Dawn, who inspired him to become a foster parent and later became his wife. In 1989 they opened their home to sick children and never stopped. The Bzeeks lost their first foster child in 1991. The girl had a spinal disorder and didn't make it to her first birthday. "This one hurt me so badly when she died," he said while showing reporters a photo of the girl. The Bzeeks decided to focus on caring for terminally ill children in the mid-1990s because other foster families wouldn't take them in. They had their only biological son, Adam, in 1997. He was born with brittle bone disease and dwarfism. Bzeek was never upset about Adam's differences: "That's the way God created him."
"I love my sister," Adam said of his foster sister. "Nobody should have to go through so much pain." He's 19-years-old and weighs about 65 pounds now. Bzeek built him a custom skateboard using a small ironing board so he could get around the house easily. The foster dad explained that they never hid his sibling's illnesses from Adam and instead accepted death as another part of life. The matriarch became ill in 2000 and suffered from intense seizures, Bzeek explained. The stress in their marriage caused a split in 2013. Dawn died about a year later.
Despite the pain he's experienced, Bzeek remains committed to helping children who desperately need it. "The key is, you have to love them like your own," he shared. "I know they are sick. I know they are going to die. I do my best as a human being and leave the rest to God."