Players Weep And Stop Game After Toddler Hit With Foul Ball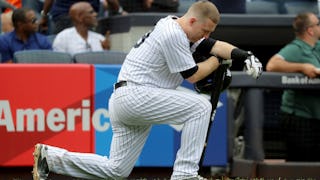 Image via Abbie Parr/Getty Images
The little girl was bleeding and had to be carried out of the stadium by her grandfather
Going to see a baseball game with your child should be filled with fun, cheers and lots of ice cream served in plastic baseball helmets. But a horrifying incident at a Yankees game yesterday left fans in shock, players in tears, and one little girl being carried out of the stadium after a foul ball struck her in the head.
The incident happened yesterday when the Yankees were playing a three-game series against the Minnesota Twins. In the fifth inning, Todd Frazier, the Yankees third baseman, smacked a line drive into the stands, hitting a young girl directly in the face.
The unidentified girl, who is being described as a "small child" and from photos appears to be toddler-age, was seated directly behind the third-base dugout.
As the stadium quieted, the game was delayed until stadium staff could attend to her. Frazier and players from both teams knelt on the field, visibly upset. According to The New York Times, the Twins' third baseman, Eduardo Escobar, "stood still with both hands on his head. The Yankees' third-base coach, Joe Espada, knelt, too, and held his helmet in his hands," and fans immediately reacted on Twitter.
According to multiple fan reports, the girl was bleeding and was immediately carried up the stairs by her grandfather, a season ticket holder. She is being treated at New York-Presbyterian/Columbia Hospital but as of now the extent of her injuries are unknown. Late last night, the father and grandfather talked with a reporter from WABC-NY. The father was asked if his daughter would need surgery and he responded, "It's too early to tell. She's doing all right. Just keep her in your thoughts."
Extended netting at all MLB stadiums has been the source of a heated debate between the MLB, players and fans. While some feel this netting would block fans view of the game, others believe the MLB should be doing more to protect spectators at games. According to The New York Times, this was "at least the third time this season that a fan at Yankee Stadium had been struck by either a foul ball or a shattered bat during a game."
According to the scoreboard, the ball that struck the girl left Frazier's bat at 106 miles per hour. "It was terrible," Frazier said after the game. "It was something I wish had never happened. Very unlucky, man. I have two kids under three years old and I thought of them. I just hope she's all right."
He tweeted his support to the child and her family after the game.
In 2015, all 30 Major League Baseball teams were urged to "extend netting 70 feet in each direction from home plate to the beginning of the dugouts," the Today Show reports. Though some teams have already put this netting in place, many others like the Yankees have not.
"I don't care about the damn view of a fan or what," Brian Dozier, the Twins second baseman told reporters after the game. "It's all about safety. I still have a knot in my stomach."
This article was originally published on