This Fourth Of July, You May Want To Skip The Sparklers
by Colleen Dilthey Thomas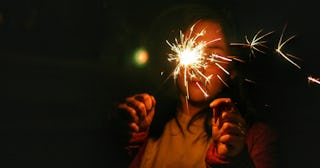 Sebastian Uphaus/Eye Em/Getty
Do you remember the Fourth of July as a child? It was probably hot. There was likely tasty BBQ and sweet watermelon. And as soon as the sun went down and the darkness set in, your super-fun uncle passed out sparklers to all of the kids. It was a rite of passage to hold that fiery stick in your hand and try to spell your name in the air. We weren't concerned about danger, but we should have taken some precautions.
The Illinois Fire Safety Alliance says that sparklers can burn extremely hot. We're talking up to 1800F! Something with that kind of heat can give you a serious burn. At-home fireworks are not a great idea, especially if you live in a heavily populated area. Fireworks can end up in trees or on someone's roof and could potentially burn down an entire house. That's scary stuff.
The U.S. Consumer Product Safety Commission reported in 2020 that firework accidents caused as many as 10,000 injuries in 2019, including 12 fatalities. Among those injuries, 900 were due to sparklers and half of those injuries occurred in children under five years old.
Scary Mommy talked to Brad Winfrey, BSN, RN, BA, CPST and the manager of the Center for Childhood Safety at Children's Mercy Kansas City, who said that due to their hot, fiery nature, it is best to keep sparklers away from young children altogether. "Since sparklers can burn at temperatures over 1,200 degrees, we do not recommend young children handle sparklers. Children often wave sparklers close to their faces and clothing which can lead to eye injuries, clothing catching on fire, and facial injuries," he said.
The CSPC and Winfrey offered similar tips for providing fireworks fun safely this Fourth of July.
Kids should never be allowed to play with or light fireworks. This one is probably a given, but a gentle reminder never hurts.
Make sure that you have water close by. Grab a bucket and be ready to douse any accidental flames.
Fireworks are real fire — so one at a time, please. And when you light them, get away fast.
If your firework is a dud, let it go. Don't ever try to light it again; just toss it into the water bucket and move on.
Don't bend over the fireworks when you are lighting them. Think about social distancing — stay back! Put your arm out, light it, and move.
Please refrain from tossing bottle rockets or any other fireworks at your friends for a laugh. Someone could get hurt; it's not worth it. This includes sparklers!
Remember to keep that water handy. As soon as the fireworks are dead, put them in water before putting them in the trash. This will ensure that they won't start another fire.
Check your local ordinances. If they're illegal in your area, don't do it. Simple as that. Also make sure that you are buying fireworks that are labeled for consumer use. Don't even think about lighting the professional stuff on your driveway.
Winfrey said that throughout his time as a nurse, he has seen the seriousness of firework accidents, including what a sparkler can do. "Minor to severe burns, eye injuries, open skin wounds, and potential for loss of body parts with high explosive fireworks. I worked for over 20 years in a pediatric emergency department. In that time I have seen what misuse and carelessness with fireworks can do to children."
Wired offers a few ideas for a fireworks-free Fourth. Get some smoke or dry ice bombs; they make fun chemical reactions without the fire. You could also grab some bubble wrap and pop it like crazy. Laser and light shows are always fun and totally safe, as long as you don't point the lasers in someone's eye. They even suggest making a batch of "elephant toothpaste," which is a chemical reaction that creates a giant foam explosion. All of these are inexpensive and easy alternatives to fireworks. This is especially important when so many places are currently experiencing drought conditions, making them far more susceptible to devastating wildfires.
Ultimately it is a parent's decision as to whether or not to allow their children to use sparklers. But no matter what, a child should never be allowed to light a sparkler themselves, and parents need to be sure that the child is holding the sparkler at a safe distance from their bodies, and away from other people. Parents must keep a close eye when sparklers are burning. Winfrey suggested glow sticks as a safe alternative to sparklers, as long as younger children do not chew on them. And, he said, you can also always enjoy a professional show — no DIY required.
When the sun sets this Fourth of July, know that celebrations can be just as much fun without sparklers and other dangerous fireworks. If you decide to include fireworks, remember, adults are in charge … and keep a bucket of water handy.