Here's The Frances McDormand Oscar Moment No One Can Stop Talking About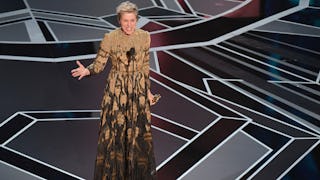 Image via MARK RALSTON/AFP/Getty Images
McDormand asked fellow female nominees to stand before talking about "inclusion riders"
If you weren't a fan of Frances McDormand before last night's Oscars, listening to her acceptance speech from last night's show will have you tracking down every movie she's been in so you can binge watch them immediately.
McDormand won the Best Actress Oscar for her performance in Three Billboards Outside Ebbing, Missouri, playing bereaved mother, Mildred Hayes, who's willing to do whatever it takes to keep attention on her daughter's murder. Her role in the film was nothing short of spectacular, second only perhaps to her acceptance speech during last night's award show.
She opened by saying, "If I fall over, pick me up because I've got some things to say," before doling out some heartfelt thank yous. Then, she urged all of the female nominees in the room to stand up.
"And now I want to get some perspective," she said. "If I may be so honored to have all the female nominees in every category stand with me in this room tonight." After chiding Meryl Streep to stand because, "if you do it, everybody else will," she said. As all the nominated women stood, the message she would later deliver about inclusion and diversity in films would be hard to ignore.
"Look around, ladies and gentlemen, because we all have stories to tell and projects we need financed," she continued, addressing the room. "Don't talk to us about it at the parties tonight. Invite us into your office in a couple days, or you can come to ours, whichever suits you best, and we'll tell you all about them."
McDormand was met with applause and cheers. "I have two words to leave with you tonight," she said. "Ladies and gentlemen: inclusion rider." The actress was referring to a clause that an actor can insist be inserted in their contract that requires increased racial and gender diversity in their cast and crew.
She expanded on the concept backstage after accepting her award. "I just found out about it this last week," she said. "There has always been available to everybody who does negotiating on film, an inclusion rider, which means you can ask for and/or demand at least 50% diversity, not only in casting, but also the crew," explaining that after 35 years in the business, she only recently learned of it. "We're not going back. That whole idea of women trending, no. No trending. African-Americans trending – no trending. It changes now. And I think the inclusion rider has something to do with that, the power and rules."
McDormand is a force to be reckoned with and the world is here for it:
With the #Timesup and #Metoo movements front and center, we will likely be seeing #Inclusionrider standing right along with them. There's no downside to creating space for equality and diversity in every single industry. Hollywood is just one very visible reminder how far we still have to go and how necessary it is to force these discussions.
This article was originally published on