Father Of Parkland Victim Urges People To Vote On Anniversary Of Daughter's Death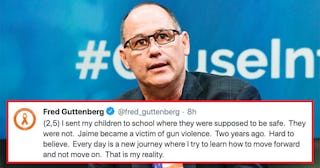 Kris Connor/Getty and Fred Guttenberg/Twitter
Fred Guttenberg wants people to remember his daughter Jaime and what her life meant
Two years ago today, 17 innocent people were gunned down at Marjory Stoneman Douglas High School in Parkland, Florida. One father, Fred Guttenberg, reached out on social media to remember his daughter and what her life meant to him, reminding people that we can use our voices to vote politicians into our government who can do something to address gun violence in America.
"Two years ago at approximately 7am, I sent my two children to school. I was so busy rushing them out the door so that they would not be late that my final words were not "I love you," Fred Guttenberg wrote on Twitter. "Jesse came home that day. Jaime did not."
Guttenberg was just 14 years old when she was shot to death at school, a place where her father said every child should feel protected. "I sent my children to school where they were supposed to be safe. They were not. Jaime became a victim of gun violence. Two years ago. Hard to believe," he continued in a series of tweets. "Every day is a new journey where I try to learn how to move forward and not move on. That is my reality."
He continued: "People always ask me, what can they do. I will answer. I need everyone who reads this to promise to PLEASE VOTE! By this I mean EVERY election possible. VOTE FOR JAIME GUTTENBERG! Vote for your own safety from gun violence. If you are not registered to vote, do it now."
Guttenberg's name may sound familiar. He was removed from the State of the Union when he yelled "What about my daughter?" to President Donald Trump during his speech. Guttenberg started shouting in protest after Trump said: "Just as we believe in the First Amendment, we also believe in another constitutional right that is under siege all across our country. So long as I am President, I will always protect your Second Amendment right to keep and bear arms." He later apologized saying his emotions got the best of him. I don't know who could blame him.
Guttenberg went on to urge everyone to vote on the issue of gun violence and take action to elect people who will do something to address gun laws in this country. He also reminded us all to hold our loved ones tight, because we never know when it could be the last time.
"On this Valentines day, I want everyone to look those they love in the eye and tell them that you love them. Hug them and hold them tight as if it is the last time you will ever get that chance as it truly could be the last time that you will ever get that chance."