There's No Wrong Way To Grieve A Miscarriage
by Valerie Williams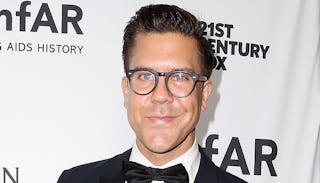 Image via Frederick M. Brown/Getty Images
Reality star Fredrik Eklund opens up about recent miscarriage in heartbreaking blog post
Bravo reality star Fredrik Eklund wrote a blog entry recently detailing the heartbreak of the recent miscarriage he and his husband suffered. They lost their twins and Eklund's world fell apart. His words will be familiar to anyone who has gone through the loss of a pregnancy and can serve as a reminder that there's no right or wrong way to grieve a miscarriage.
Fredrik and husband Derek became pregnant via a surrogate mother and egg donor. The twins were a boy and girl, the boy biologically Derek's and the girl Fredrik's. They had names selected and had purchased clothes — like any expectant parents, they were thrilled for the future.
Of their excitement, Eklund writes, "I was flying so high: I can honestly say those were the happiest weeks of my life. It gave the world such light — such a dimensionality — that everything felt purposeful and right. I felt right. This was my meaning, my time, my place." He goes on to say it felt "too good to be true." And sadly, it was.
He describes the moments after learning that the couple had lost their babies. "But, what really surprised me was how it hit me emotionally. It hit me so hard I couldn't function. First, you get the phone call. Then, you freeze. You hear your heart beating in your ears. You lose balance. You sit down on a bed. Everything gets black."
Eklund says he called his husband and they cried together and went through a range of thoughts and emotions. "You want to scream. You get so angry. You think of them. You say their names. You think of where they went. You think of the life together that is lost. You open your eyes and they are not there."
Miscarriage is heart-breaking no matter what, and every parent handles it differently. It sounds as though Eklund didn't expect a lot of the feelings that rushed in when he lost his babies. He says, "6'5″ tall men are not supposed to act like this. We are not supposed to cry and cry and cry. Cry at work, cry in the gym, cry on the streets — whenever, really. It could come completely unexpected and could happen at any time; the crying would wash over me."
There's no predicting grief and how it will effect you. There is no "better" way, there are no shoulds or shouldn'ts. Yes, even wealthy, powerful, 6'5″ real estate phenoms can cry for days and weeks over a miscarriage. No one is immune.
When I miscarried what would have been our third child, I wasn't prepared for a lot of what I felt either. Mostly, the deep and unrelenting guilt on behalf of our two living children. We hadn't told them about their impending sibling yet, and we lost him or her before we got the chance.
At first, I was glad to spare them the worry and grief — they didn't know any better and I hid my own heartache from them. But then, I felt an overwhelming sadness that they never got to enjoy a single moment of those first happy months before we knew anything was wrong. I also felt pangs of guilt that I wasn't going to be giving them that sibling that my husband and I had gotten so excited about.
While I didn't see any of those feelings coming, I let them in. I let myself feel it all and didn't beat myself up over it. That was about 18 months ago and while I still have my moments, I'm mostly fine — and I believe it's because I didn't repress anything and let the grief come in whatever form it needed to.
There is no right or wrong way. It just is.
In the end, Eklund says that though he's "still broken," the miscarriage brought him closer to his husband and that he's seen "so much beauty" come out of such a trying situation. Every parent who's been there understands exactly what he means. We wish he and his husband the best going forward and are sincerely sorry for their loss.