'Free Britney' Crowd Is Desperately Trying To 'Solve' Her Latest Instagram Post
by Valerie Williams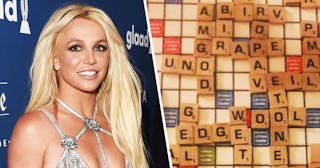 J. Merritt/Getty and Britney Spears/Instagram
Britney Spears sends fans into a frenzy with her every Instagram post and the latest is no exception
Britney Spears has an awful lot of people on her side and concerned for her happiness and safety. That's become particularly evident in the weeks since Framing Britney Spears, a Hulu documentary, revealed her current conservatorship battle along with highlighting just how cruel the world and the media have been to the pop princess over the years.
As the "Free Britney" movement gathers more steam, initially spawned over concern for the star's fraught 13-year conservatorship situation, fans are paying even closer attention to her often cryptic Instagram posts. The latest, an actual word puzzle, has fans ready to "solve" it and hopefully, help "free" her.
Spears posted a seemingly random Scrabble board full of words. "Can you find a word that isn't actually a word ????" she writes in the caption. "Sometimes it's fun to make ones up 😜🤷🏼‍♀️ !!!!"
The moment I saw this puzzle hit my Instagram feed, I knew fans would be in the comments doing their best to figure out what, if anything, Spears meant by sharing the jumble of words. I wasn't at all wrong. Basically, thousands of people are doing their best amateur detective work to see what Brit might be trying to tell us.
Some of the comments definitely have a lighter and jokier tone, but overall, the concern for Spears' mental health and well-being is central and very real. Fans have closely watched past Instagram videos of the singer talking about various topics and performing dance routines, and taken note of her eye and facial movements, her outfits, and trying to figure out if someone is feeding her "lines" off camera. It's anyone's guess if that's actually the case, but some of the posts are decidedly disturbing given what we now know about Spears' battle to loosen her father Jamie's control over her life.
Indeed, Spears has gone to court now several times to try to challenge the terms of her conservatorship, and apparently, to give her dad less say over how she spends her money — and her life. Conservatorship of her person is now in the hands of professional conservator Jodi Montgomery, while her father remains conservator of her financial estate in conjunction with Bessamer Trust as co-conservator. A recent court victory ruled in favor of Britney, denying her dad's objections that sharing power with Bessemer Trust reduced his powers over his daughter's estate. The new ruling reaffirmed that both her dad and Bessemer Trust will have to share power over the singer's finances.
The reason the "Free Britney" crowd feels she needs freeing? As illustrated in the heartbreaking and infuriating documentary, shortly after the conservatorship was put into place in 2008, Britney was seemingly back to her usual frenetic workload. In addition to a demanding Vegas residency, "Britney: Piece of Me," that ran for four years and grossed a total of $138 million over 250 shows, Spears also continued to make TV appearances and tour several times over the last 13 years.
In order to be under a conservatorship, it must be judged that the conservatee is incapable of acting in their own best interests. Does someone headlining numerous tours, making millions of dollars, and keeping up a hectic work schedule sound like a person matching the reasons for enacting a conservatorship? I think not. If she can make all this money, she should certainly have the choice to decide how it's handled.
Hence, the "Free Britney" crowd's goal of literally freeing this 39-year-old woman so she can have full control over her own life and find true happiness, if she hasn't yet. We all want the best for Brit and if that means taking every single one of her Instagram posts to heart, so be it.