Our favorite Free Online Games For Preschoolers That Are Fun And Educational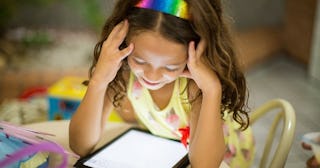 Patricia Prudente/ Unsplash
Nothing beats watching your little one achieve something new, especially when it comes to brain power. And when you want your kids to learn something new, study after study shows that play is the best way. These free online learning games for preschoolers make it so easy to learn the ABCs and 123s, plus extra cool stuff like geography and even emotional regulation. Here are some of our favorites.
RELATED: Free Online Games For Toddlers That Are Educational And Surprisingly Fun
Disney Jr. games
With all their favorite Disney characters in one place on the Disney Jr. games page, kids can learn all sorts of things from the Lion Guard, Sheriff Callie, Doc McStuffins or any of their other Disney pals. Lots of counting and sorting games here, which preschoolers love.
Nick Jr. Games
Paw Patrol, Shimmer and Shine, and Peppa Pig lead the way on Nick Jr.'s page full of fun free online games for preschoolers. Teamwork, helping others and family togetherness are all strong themes in Nick Jr. original programming, and that definitely carries through their online presence.
Sesame Street
Who is better equipped to teach kids how to count than the Count himself? Add in Elmo, Grover, Big Bird, Abby and all their friends with fun games of their own and your child will have a blast with Sesame Street online games,
Cookie
Math, EFL/ESL games, and puzzles are just a few of the preschool games offerings on Cookie.com. Unfortunately, there do not seem to be any actual cookies that can be eaten, so you'll still have to have Uber Eats bring some by.
Kidzphonics
Your pipsqueak can start absorbing the building blocks of reading with the interactive phonics games and printable flashcards featured on Kidzphonics.
PBS Kids
Similar to Disney Jr. and Nick Jr., with one important difference: the PBS Kids game site has a whole section on games about emotions. If your child won't listen to you about not throwing tantrums, maybe a game about anger with Daniel Tiger will convince them.
Turtle Diary
Memory games, math games, language arts, geography and science games are just some of the offerings on Turtle Diary. Bonus: they even have an app for gaming on the go! Super helpful to keep them busy during long car rides or while you're on a long phone call.
Happy Clicks
There's a handy option on this site to find games maneuverable by either keyboard or tablet (look for press or tap, or move and swipe for tablets, or click or tap for desktops and laptops). Plus Happy Clicks has online coloring games, which comes in handy when you're on-the-go and don't want to lug around crayons and a coloring book when you're out and about and have to keep your kids busy and happy.
National Geographic for Little Kids
This subsect of the National Geographic for Kids page offers a Look and Learn section about animals, entertaining and educational video shorts, and a selection of games based on nature and conservation to help your preschooler learn to love and respect the environment.
Starfall
One of the most popular site for online preschool games, Starfall keeps kids coming back again and again experience their musical movement games. Motion songs, plus games about rhyming and pre-reading skills are all included.
Related: Free Online Puzzle Games For Kids That'll Keep Them Busy All Day
This article was originally published on