Free Online Typing Games For Kids That Are Surprisingly Fun And Educational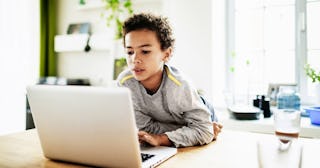 Tom Werner/ Getty Images
Typing is a skill that can be learned at any age, but the earlier the better. And while your little Johnny Neutron may already be an expert at pulling up cartoons on YouTube or queuing up Netflix on a smart TV, typing on a keyboard is a whole different kind of educational skill. Your kid might be less than enthused at the prospect of spending their spare time learning this particular art form, but luckily there are plenty of free online typing games that make it fun while fleshing out that muscle memory.
The ability to type quickly and accurately has become increasingly important. Many of us remember frantically trying to keep up with our professors as we scribbled notes in high school and college classes (and then attempting to decipher our own handwriting when we got home). Today, laptops have replaced notebooks and skilled typists have a major advantage when it comes to note-taking in class. That makes it that much more important to get a leg up as early as possible.
While there are a number of free options available online; here are five of our recommendations.
1. Dance Mat Typing
Created by the BBC, Dance Mat Typing introduces animated animal characters who will teach your kids the ins and outs of touch typing. The game consists of four levels with three stages each. In each stage, the animal instructor provides a narration and demonstration of where on the keyboard to place your fingers. When your kid completes a stage, their instructor — accompanied by an ensemble of other animals — puts on a celebratory show. (Yes, there's singing involved.)
2. TypeTastic
If you want a site with lots of options for your little learner, look no further than TypeTastic. It offers over 700 typing games for all grade levels, and the comprehensive curriculum focuses on all aspects of typing — motor skills training, timing, and accuracy. It also has activities devoted specifically to numbers and symbols, which can be an Achilles heel to even the best typists.
3. Type-A-Balloon
The sweet satisfaction of popping a balloon will keep your kids engaged with Type-A-Balloon, a simple but effective and fun typing game. The player needs to type the letter beneath the balloon before it floats away in order to achieve that satisfying "Pop!" It consists of three levels and typists can practice on four different keyboard regions before taking on the task of the entire keyboard.
4. Key Seeker
Key Seeker is aimed at kindergartners who are still perfecting their alphabet skills. A letter will pop up on the screen, and it's the kid's job to identify it and then click the correct key. Key Seeker also teaches kids which hand should be used for the different letters — if the letter that pops up is purple, it should be clicked with the left hand and if it's green, the right hand should be used.
5. The Typing of the Ghosts
Older, more experienced typists who need to focus on increasing their speed (and who enjoy a good scare) will absolutely love The Typing of the Ghosts. The objective is simple: Words appear on the screen, and it's the typist's job to type them quickly; otherwise the ghosts in the background will descend upon them. Players are given a total of five lives, but beware — the ghosts have the power to take one away if the player doesn't type fast enough.
Written by Caitlin Flynn.
This article was originally published on