You Can Send Free Valentines To Kids In These Children's Hospitals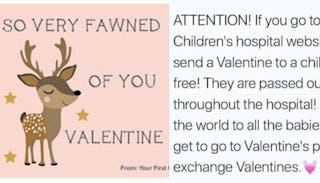 Image via Facebook
It doesn't take much time at all to make a kid's Valentine's Day better, even if they're in the hospital
The Cincinnati Children's Hospital has a simple way to send Valentine's Day card to one of their patients online – kids who don't get the fun of exchanging cards with the kids in their classrooms.
News has been spreading on social media, including this post on Facebook by Jill Johnson Macnab, which reads: "ATTENTION! If you go to Cincinnati Children's Hospital website, you can send a Valentine to a child there for free! They are passed out evenly throughout the hospital! It will mean the world to all the babies who don't get to go to Valentine's parties or exchange Valentines."
We tried it and it literally only took about 45 seconds to do. And there are a ton of cute images to choose from, including a llama, a sloth, and a dancing hippo.
There are nine options in total, involving stars, turtles, and fawns, all extremely punny.
The website notes that there's been so much traffic lately that some people might not get a confirmation email – but rest assured that your Valentine is getting through.
Although it's getting a lot of coverage ahead of V-Day, the Cincinnati Children's hospital isn't the only hospital that has a Valentine's Day card program.
The Children's Hospital of Los Angeles not only lets you send a free Valentine to a kid who's in their care, but Party City donates a dollar to the hospital for each card sent, up to $25,000. They have three dino cards to choose from, and you can add a personal message to these.
Arkansas Children's Hospital also has a card campaign – and not only can you send a card, you can also order and ship art supplies so the kids can create their own Valentine's Day crafts. They request "watercolor paint, markers, crayons, paint brushes, rhinestones, sequins, foam stickers, googly eyes, kid scissors, glue dots and LOTS more." Just make sure you send new, unopened crafts because of some kids' immune systems.
Children's National Hospital in Washington, DC, also has a program with three card choices and a spot for a personal message.
Boston's Children's Hospital also has a digital Valentine's program with three options and a personal message option – though they note that cards can't be mailed in, and that cards can't be sent to specific patients.
St. Jude's Children's Research Hospital has their own card program with personal message option. Their super-cute cards are inspired by their patients' art and are totally adorable.
A few more:
Children's Health in Dallas has farm-themed cards.
Phoenix Children's Hospital has space-themed cards.
Finally, Children's Hospital Colorado has "cheer cards," which you can send any time of the year to kids who need a little emotional support while they need medical care. They're personally delivered by hospital volunteers.
It only takes a minute, and it's totally addictive – go ahead and send a few to bring smiles to some little ones who could use them.