Freeform Bleeps Out Women Saying 'Sorry' For International Women's Day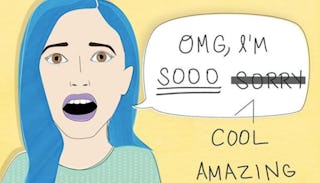 Image via Freeform
Freeform will bleep out every "sorry" from a woman all day today
Oops, sorry. Does this come at a bad time? LOL just kidding. It's International Women's Day and in celebration, one network is making sure no female character is heard apologizing for anything. Because if there's one thing women are unfailingly great it, it's saying sorry — even when it's totally not necessary.
The Disney-owned television network Freeform made sure not a single one of its female characters apologized to anyone today by literally bleeping out every time one of them said "sorry." It's all part of their #NotSorry campaign where every girl-pology (sorry, I couldn't help myself) will be bleeped and tracked in a little "sorry meter" on the screen from 11 am ET to 11 pm ET.
Of course, sometimes an apology is warranted, but so often, women are saying sorry for no reason at all — and we're seriously applauding Freeform for noticing.
We are here for this.
Twitter noticed too with plenty of women approving of the empowering move.
Freeform even has a suggestion for turning all those unnecessary sorry's into something far more powerful.
We are truly inspired to take all those stupid "sorrys" out of our mouths.
Tune in all day today to watch women say sorry (not sorry).