Freeform Claps Back At Racists Who Whined About 'The Little Mermaid' Casting
by Madison Vanderberg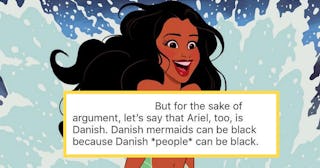 chloexhalle/Instagram and Freeform/Instagram
Freeform released a statement addressing the racist backlash to 'The Little Mermaid' casting
Last week Disney announced that Halle Bailey of Grown-ish and Chloe x Halle fame is set to star as Ariel in the live-action remake of The Little Mermaid. Naturally, we celebrated because Bailey is a perfect choice to play the iconic character but then the racists of the internet went and ruined it. After the announcement, social media was suddenly full of people who refused to accept that Ariel could be played by a black woman, and just so we're all on the same page, that reaction is a racist one.
https://twitter.com/jetpack/status/1146659193820262400
The internet was seriously acting like there are no roles for white women or that red-headed people are a marginalized class. The hashtag #NotMyAriel went viral and people even made Change.org petitions to keep Bailey down. The whole thing was ugly. Racist critics seemed to band around the notion that the book that inspired the original Disney cartoon was written in Denmark, even though The Little Mermaid itself takes place underwater in a landscape that bears no resemblance to Denmark and features fictional sea creatures.
We wondered when Disney would step in and end the bullshit and finally Freeform, the Walt Disney-owned cable channel that airs Grown-ish, released a statement on Instagram and — hopefully — silenced the haters.
"Yes. The original author of The Little Mermaid was Danish. Ariel…is a mermaid. She lives in an underwater kingdom in international waters and can legit swim wherever she wants…But for the sake of argument, let's say that Ariel, too, is Danish," the post began. "Danish mermaids can be black because Danish *people* can be black. Ariel can sneak up to the surface at any time with her pals Scuttle and the *ahem* Jamaican crab Sebastian (sorry, Flounder!) and keep that bronze base tight. Black Danish people, and this mer-folk, can also *genetically* (!!!) have red hair."
After a history lesson on how not everyone in Denmark is white, Freeform concluded the post by reminding everyone that Ariel is a fiction mermaid who lives underwater, which means that unlike other culturally specific Disney tales, Ariel can be played by anyone and that is the beauty of the character.
"The character of Ariel is a work of fiction," the network wrote. "So after all this is said and done, and you still cannot get past the idea that choosing the incredible, sensational, highly-talented, gorgeous Halle Bailey is anything other than the INSPIRED casting that it is because she 'doesn't look like the cartoon one,' oh boy, do I have some news for you…about you."
This is probably the closest we're going to get as far as official Disney statements go, and we'll take it. If a black Ariel triggers you, check your white privilege, please. This isn't about you.
This article was originally published on