Trailer For A Modern Redo Of 'Fresh Prince Of Bel-Air' Goes Insanely Viral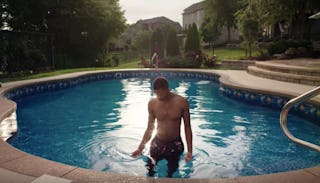 Image via Morgan Cooper/YouTube
There's a trailer for a dark, modern-day 'Fresh Prince of Bel-Air' and it's incredibly good
Do you find yourself missing the good old days when you could turn on Nick at Nite and check in with Will, Carlton, and the rest of the Fresh Prince of Bel-Air gang? Or the even older good old days when you could see it the first time around? Well, you can finally catch up with that whole cast of characters again – only this time there's a big, new twist. Filmmaker Morgan Cooper directed a stunning trailer that reimagines the classic 90's sitcom in modern day life. It's gritty, dark, and will have you demanding a full-length film immediately. Netflix and Hulu, we hope you're listening.
Cooper tweeted out a video of the final product, which racked up almost 10,000 likes. "Like most 90's kids, I grew up watching Fresh Prince," he wrote. "Even as a kid, I always thought there was more to the story… so I decided to make this. S/O to incredible team who worked on this!
Be warned: it will give you major goosebumps.
We meet modern-day Will on the basketball court. He gets caught with a gun in his bag after having some trouble with other guys in his neighborhood and is sent to live with his Uncle Phil in Bel Air, who helps bail him out of a dicey situation.
He heads to Uncle Phil's unreal house.
And we get to see some very familiar faces in a very different kind of setting. Like Jazz and Hilary Banks and Carlton Banks (who, yes, is doing the Carlton dance). Our nostalgic feelings are kicking in hardcore, but also, it's totally new and..fresh. Sorry, had to do it.
Cooper told okayplayer that filming the trailer was an "intensive process." They used Kansas City as a stand-in for Philadelphia and borrowed his aunt's living room for the opening shots.
"I felt like growing up I always thought there was more to the story more behind the sitcom format," Cooper said. "I thought, 'Wow, we could take this story and really ground it in reality in a really dramatic way.'"
Since posting the video on YouTube, it's received more than one million views and lots of praise (including a shout-out from Tatyana Ali aka Ashley Banks). People really, really, really wanted a feature-length film made out of this.
Cooper has heard all of the fan noise and is grateful for it.
"The internet's the internet. You never if something's gonna catch a spark or not," he told okayplayer. "I'm very excited for everything that has happened and receive it humbly. But at the end of the day I'm a black creative and representing my culture and expressing myself authentically is of the utmost importance to me."
This article was originally published on