You Can Buy 'The Child' Moccs For The Tiniest Baby Yoda Fans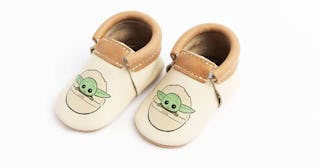 Freshly Picked
Freshly Picked has "The Child" Moccs available for pre-order — and they're way too cute
If you're scrambling to get your hands on all things Baby Yoda, aka The Child, you're not alone. Fans are obsessed with the adorable little green dude and anything with his face on it is a guaranteed hit. Yesterday we got to see Build-A-Bear's The Child plush, available later this spring, and now, Freshly Picked is offering The Child Moccs for the tiniest Mandalorian fans. All the Baby Yoda babies in your life need a pair, trust us.
Just look at them. Can you even?
https://www.instagram.com/p/B8zM6npnJU9/
The bottoms feature the Star Wars logo and the leather is clearly high quality. They run from $45-65 depending on size and weight of sole. A somewhat hefty price for teeny baby shoes, but surely diehard fans of The Child will be only too happy to fork over the dough.
If you're looking for every possible way to inject a little Baby Yoda magic into your life, then get ready to request a whole day off from work to hit up Build-A-Bear when they finally release The Child plush. The retailer teased that it was coming a few weeks ago and finally gave us a peek this week. He's even more than we hoped for TBH. You might have to stand in line for hours, but it will be well worth it for the chance to snuggle this little dude whenever your heart desires.
If you have a little one and simply can't wait for these Moccs to arrive, then you can try your hand at crocheting your own Baby Yoda baby clothes. If baking is more your speed, whip up a batch of Baby Yoda cookies using a very helpful cookie cutter hack.
And if you're just here for itty bitty shoes adorned in beloved characters, Freshly Picked has you extremely covered.
This pair of "Where the Wild Things Are" Moccs are basically to die for.
All Disney everything. I may need to have a later-in-life baby solely to have a person to buy those Bambi Moccs for.
They are truly too much for my heart.
These are seriously the cutest baby shoes on earth. It's only fitting that The Child join the collection.
This article was originally published on