Powerful Ad Showing New Moms Breastfeeding To Air During Golden Globes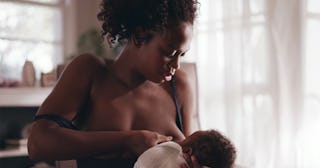 Frida Mom/YouTube
The Frida Mom ad is the first of its kind to highlight the frustrations of breastfeeding
Moms who choose to breastfeed often feel isolated, alone, and frustrated by the process. Anytime breastfeeding is shown in advertising or in media, mothers are either covered or diagrams depict drawings rather than actual pictures of breastfeeding moms. What's more, many more feel pressured to breastfeed despite the mental and physical toll on their bodies. One pregnancy and labor brand decided to show actual moms and their babies breastfeeding to highlight that it's not always easy.
Frida Mom made two versions of an ad showing some of the more frustrating aspects of breastfeeding. One is an unedited version shown that's already been released online. The other is the made-for-TV edition that will air during the Golden Globe awards ceremony this Sunday, according to Adweek, and will cover the mom's nipples.
The ad shows moms trying to get their baby to latch, questioning if they've made the right decision to breastfeed, and trying to pump milk during the wee hours of the morning as their spouse sleep soundly. Anyone who's ever breastfed will likely relate to some, if not all, of the scenarios.
NBCUniversal said of the ad that it "immediately aligned on its mission and meaning" in a statement to AdWeek.
"It is an authentic display of motherhood and shows the essential but sometimes difficult act of feeding your baby," they continued. "We partnered with Frida to share their message and protect their creative vision, while ensuring the ad complied with NBCU standards and other guidelines. We agree that the ad may push the envelope, but it is the context surrounding the visuals that makes this ad different, and we stand by it."
The fact that breasts can be shown regularly in movies and in advertising but not to feed children is perplexing. Moms are meant to feel like they should hide breastfeeding, spurring an entire movement to normalize breastfeeding in public, as well as a "Fed is best" campaign for those who choose not to breastfeed. This ad shouldn't be seen in any way as controversial; it's a long overdue, honest look at what some moms go through.
"We did go through a fairly robust editing process at NBCU's insistence, but we feel that where we ultimately landed with the final 30 second spot still authentically captures the human truth at the root of our story — that the physical and emotional breastfeeding journey puts an unrivaled pressure on women to 'perform,' and no longer should women be expected to prioritize making milk over their own physical discomfort,"said Frida CEO Chelsea Hirschhorn.
Last year, an ad by Frida Mom about the difficulty of postpartum recovery was rejected from airing during the Oscars.
Hirschhorn continued: "The reality is that women are blindsided by the physicality of breastfeeding — raw nipples, uterine contractions, painful clogs — no one tells you that it can be as painful as your vaginal recovery. It's all part of the postpartum physical experience — but it never gets any air time because the end supposedly justifies the means. The two don't have to be mutually exclusive."
The ad ends with a message of solidarity and hope for new moms: "Care for your breasts. Not just your baby."