'Friends' Is Being Taken Off Netflix And Could We BE Anymore Upset?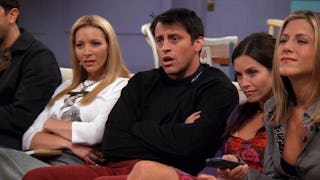 Image via IMDB
It's going to be a crappy new year without Friends on Netflix
Good things never last too long, which is why we have terrible news to report: Friends is leaving Netflix in the U.S. as of Jan. 1. Yep, Crappy New Year to all of us.
For years, we've been able to peruse and stream all 10 seasons of the iconic show at our leisure. Now, we must binge, because there's a deadline on our Friends-watching.
Some people, who apparently don't realize the gravity of the situation and are on Twitter during their suddenly very valuable Friends viewing time, have thoughts to share. And, um, suffice it to say this news is not going over well.
There's a silver lining, which is that if you have cable, your Friends binge pretty much never has to end.
And it's likely that the show is dropping Netflix because Warner Media is launching its own streaming service next year. So while you won't be able to watch all 10 seasons on Netflix, you may be able to watch them elsewhere. Only who wants to pay for yet another streaming service, amirite?
We're all just holding out hope that this is temporary, and Netflix and Friends are just about to be on a break from one another. Or that we can sign a petition to get this decision reversed, because some people are actually circulating a real petition to stop the show from leaving Netflix.
Sadly, though, unless you still own the DVD box sets, this is probably your last chance to hang with Ross, Chandler, Joey, Rachel, Monica and Phoebe for a while. As of this writing, we have 29 days til Jan. 1. There are 236 episodes in the entire series. If you start today, you only need to watch 8-9 episodes per day to finish before it's too late. It's cold outside, what else are you going to do?
So fam, get watching. And Netflix, we have one message for you.