'Friends' Is Officially Leaving Netflix And People Are Losing Their Sh*t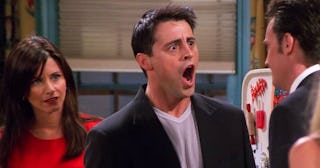 NBC
Excuse me, what do you MEAN we can't binge 'Friends' on Netflix anymore?
It looks like 2020 is going to be quite a taxing year for many reasons — and the election is just one of them. The other reason is that some of our favorite shows are getting the ax from Netflix, officially, next year. Friends is the latest Netflix casualty to be removed from their catalog of endlessly binge-able shows. We've already lost The Office, how can they do this to us? How?
The good news is that Friends is getting a new home, so you'll still be able to binge-watch while folding endless loads of laundry. The bad news is that home is yet another subscription service we're going to have to shell out money for. It's brand-new and owned by HBO, so it's probably great, but still — ugh. Netflix and Friends go together like Ross and Rachel, damn it.
According to Variety, new service HBO Max will have exclusive streaming rights at launch to all 236 episodes of "Friends" — which will officially leave Netflix in 2020. "We're sorry to see 'Friends' go to Warner's streaming service at the beginning of 2020.
If this story sounds familiar, it's because The One Where Friends Leaves Netflix is kind of a repeat. Back in December 2018, we were tormented with the decision that Friends and Netflix would go on a break. Permanently. But then, at the last minute (and after many, many heartbroken messages from fans of the show), they decided to keep the show streaming for another year.
Netflix had reupped its deal with Warner Bros. TV for exclusive streaming rights to Friends through the end of 2019, but AT&T CEO Randall Stephenson recently said that WarnerMedia would be reclaiming popular titles that were licensed to others for its own subscription VOD service. WarnerMedia will own HBO Max, btw.
In addition to Friends and The Office, Disney will be pulling all of its currently streaming movies from Netflix as well — as they are also launching their own streaming service, Disney+, set to launch later this year. While it absolutely sucks to have to watch our favorite shows on multiple platforms (the inconvenience!), one great thing about Disney + is that the elitist, nonsensical vault will no longer exist. Yay.
But when it comes to losing Friends to HBO Max, people have All The Feelings.
The upside is that HBO Max will also have binge-worthy titles that include The Fresh Prince of Bel Air and Pretty Little Liars, plus new original series like an animated Gremlins reboot and a thriller called The Flight Attendant starring Kaley Cuoco. WarnerMedia also announced production deals with Reese Witherspoon. So there's that.
But, as Chandler Bing would say, having Friends *right there* on Netflix always made us feel a little better about being "hopeless, awkward, and desperate for love."
This article was originally published on