A 'Friends' Reunion Is Happening And We Couldn't BE Any Happier
by Cassandra Stone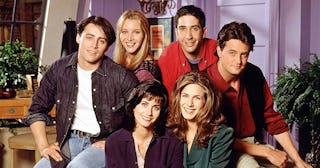 NBC
The original cast and creators of 'Friends' are expected to participate
What better way to celebrate the 25th anniversary of the premiere of Friends than news of an official reunion? That's right, the original cast and creators of the beloved sitcom are expected to participate in a reunion special that's in development at HBO. Honestly, could we be any more excited about this?
The Hollywood Reporter is sharing that development is currently underway for an unscripted reunion special that would feature Jennifer Aniston, Courteney Cox, Lisa Kudrow, Matt LeBlanc, Matthew Perry and David Schwimmer, as well as series creators David Crane and Marta Kauffman.
Now true fans of the show are likely feeling their wheels turn at this news. Suddenly a lot of puzzle pieces are beginning to fit together, right? Like Jennifer Aniston finally joining (and subsequently breaking) the land of social media via Instagram. Remember her first post? It was the entire cast. Reuniting. BE STILL OUR '90s HEARTS.
Not to mention Courteney Cox's recent post where she and Matthew Perry are adorably posing together with the caption, "Guess who I had lunch with today….I KNOW!! Could I BE any happier? #realfriends."
Monica and Chandler FOREVER.
While THR says the deal isn't finished, and schedules still need to be worked out between everyone (and money, let's be honest), but things are looking good. One cannot help but wonder what the payday will look like for these pals once things are said and done. When Friends went off the air for good in 2004, each of the main six cast members was making upwards of $1 million per episode. And that was 16 years ago.
Interestingly, the cast members have shot down fans' hopes of a reunion for years. As reboots of popular sitcoms have become increasingly more popular in recent years (Will and Grace, Roseanne), it always looked like Friends was going to be left as-is. Just as recently as last month, Jennifer Aniston shot down any talk of a possible revival of the show while appearing on Ellen.
Though she did kinda leave fans hanging with this tease: "We would love for there to be something, but we don't know what that something is. So we're just trying. We're working on something."
"Something" is a whole lot better than "nothing." Especially since the show is leaving Netflix next year. Please, Rachel, just let the break be over. You're our lobster.