A 'Friends' Reunion Special Is Officially Happening
by Julie Scagell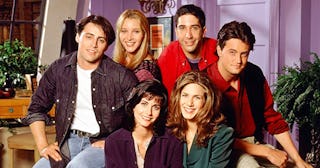 NBC
All six original cast members are in for the 'Friends' reunion special
Could we be any more excited? After years of speculation and much finger crossing, a Friends reunion is finally happening.
All six original cast members — Jennifer Aniston, Courteney Cox, Lisa Kudrow, Matt LeBlanc, Matthew Perry, and David Schwimmer — are reuniting for a special on WarnerMedia's new streaming platform HBO Max. A date for the special has yet to be announced, though.
While HBO Max doesn't launch until May (boo!), every episode of Friends — along with the reunion special entitled "an untitled unscripted special" — will be available (yay!). But if you can't wait that long (who could blame you?), sister company TBS recently announced that for the next four weeks, every episode of Friends will air on TBS and will livestream on the TBS app weekdays from 10 a.m. to 4 p.m.
"Guess you could call this 'the one where they all got back together,'" said Kevin Reilly, chief content officer of HBO Max, in a statement. "We are reuniting with David, Jennifer, Courteney, Matt, Lisa, and Matthew for an HBO Max special that will be programmed alongside the entire Friends library.
"I became aware of Friends when it was in the very early stages of development and then had the opportunity to work on the series many years later and have delighted in seeing it catch on with viewers generation after generation," Reilly continued. "It taps into an era when friends — and audiences — gathered together in real time; and we think this reunion special will capture that spirit, uniting original and new fans."
The cast was eager to announce the good news on social media. "It's happening," they wrote on Instagram next to an adorable picture of the crew. LeBlanc hilariously decided to post the original cast of M*A*S*H, which makes us even more excited for the reunion.
Friends earned generations of die-hard fans after its original run, which ended in 2004. We've lived off reruns of the 236 original episodes and have used lines from the show to deal with everything from relationships ("We were on a break!") to time management ("Sorry I'm late, but I left late…") to a better grasp on the English language ("It's a moo point. It's like a cow's opinion: It just doesn't matter. It's moo."). Now, we'll finally have some new material to work with — and that's news still worth celebrating.