Jennifer Aniston Breaks Our Hearts With Sweet Tribute To James Michael Tyler
by Christina Marfice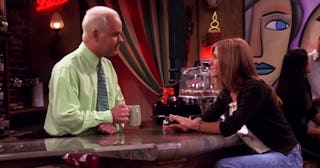 TBS/Youtube
Jennifer Aniston and other stars of Friends are sharing moving social media tributes to Gunther actor James Michael Tyler
The cast of Friends remains as close-knit as ever, and it shows in the tributes the show's stars are sharing for James Michael Tyler, who played Gunther. Tyler died on Sunday at age 59, and the Friends cast has been just as shocked and heartbroken by the loss as fans have been.
Jennifer Aniston, who played Rachel, shared a clip from the show's final episode. In it, she and Gunther share a sweet moment after he confesses his love for her at the cafe where they worked together.
"Friends would not have been the same without you," Aniston wrote. "Thank you for the laughter you brought to the show and to all of our lives. You will be so missed #JamesMichaelTyler."
Other stars from the show have been sharing their own tributes, and they're just as heartwrenching. Lisa Kudrow, who played Phoebe, shared a portrait of Tyler in character on the set of Central Perk.
"James Michael Tyler, we will miss you," she wrote. "Thank you for being there for us all."
Courteney Cox shared the same photo, alongside her own sweet message.
"The size of gratitude you brought into the room and showed every day on set is the size of the gratitude I hold for having known you," Cox wrote. "Rest In peace James."
And Matt LeBlanc shared a still from Friends that showed him and Tyler together at the counter in Central Perk.
"We had a lot of laughs buddy," he shared. "You will be missed. RIP my friend."
Tyler played Gunther, the manager of the Central Perk coffee shop where Rachel worked and the gang hung out, for Friends' entire 10-season run. He was known for his brightly bleached blond hair, and an incredibly dry comedic style, delivering hilarious lines sometimes so awkwardly that you weren't sure whether to laugh. Tyler had been battling advanced prostate cancer, and his family confirmed on Sunday that he had "passed away peacefully at home in Los Angeles on Sunday morning after losing his life to prostate cancer."
Friends co-creators Marta Kauffman and David Crane released a statement soon after the news of Tyler's passing.
"James was a genuinely kind, sweet man," they said. "When he started as an extra on Friends, his unique spirit caught our eye and we knew we had to make him a character. He made Gunther's unrequited love incredibly relatable. Our heart goes out to his wife, Jennifer Carno."