Frozen Cauliflower Crust Is Here So You Can Stop Failing Miserably At Making Your Own
by Cassandra Stone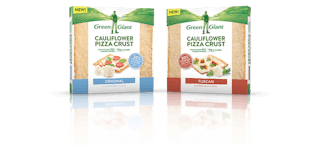 Image via Green Giant
Cauliflower crust is best served already made, thank you very much
In lieu of stuffing our faces with starchy carbohydrates (shout out to any fellow potato addicts out there), many people turn to cauliflower as a substitute. There's something about that delicious, gas-inducing white vegetable that meets many of our potato and dough-loving needs, you know? Which is why this new, ready-made, hassle-free cauliflower crust is the most amazing addition to our grocery lists.
While cauliflower "rice" is easy enough to make on your own (though it's also available for purchase almost anywhere), the mystique of the cauliflower pizza crust is, uh, a little harder to perfect at home in our own kitchens.
Basically, making a cauliflower pizza crust is an enormous pain in the ass. And anyone who says they "love" doing it or found an "easy and yummy" recipe is either Ina Garten, or an absolute liar. Thankfully, Green Giant has our backs on this one — because they've come out with a pre-made version for just $4.99 that will set our minds and stomachs at ease.
The Green Giant crust is 80 percent cauliflower — the other 20 percent is comprised of rice flour, corn starch, corn meal, corn flour, canola oil, and salt. One serving is a quarter of the whole pie and won't kill your diet: 1 gram of fat, 16 grams of carbs, 2 grams of sugar, and 2 grams of fiber.
There's also a fancy Tuscan version if the original doesn't strike your fancy — with garlic, rosemary, oregano, and parsley.
Basically everything that is ~amazing~ about this cauliflower crust can be summed up in two words: price and convenience. No more cauliflower grating, food-processing, egg-beating, baking, over-baking, under-baking, and overall failing at making a tasty and perfectly cooked base for guilt-free pizza.
The pre-made cauliflower crusts hit store shelves this fall — just in time for a cozy, family pizza night at home with the family. No mess, no clean-up, just cauliflower.
This article was originally published on