This Full-Body Scarf Screams 'Leave Me Alone'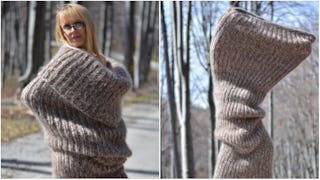 Image via Dukyana
A tube scarf made of mohair can be the answer to all your problems this holiday season
It's a stressful time of year and when the kids are driving you nuts, the dog won't stop barking at all your Prime deliveries, and it seems like the world won't leave you the fuck alone, you might feel the need to disappear. Literally. Fortunately, we have an answer for this pressing holiday season need — and it looks cozy AF.
Moms, great news — there's now a tube scarf made to envelope your entire body. Yes, it's pretty pricey at $280, but can you really put a price on being able to instantly vanish inside a cloud of soft mohair that will hopefully muffle every annoying kid sound around you?
I mean, look at this thing. It could swallow you into a hole whenever needed. Did your preschooler loudly call some white-haired lady at the grocery store "Mrs. Claus?" TIME TO GO. It's the winter accessory we had no idea we needed.
Available on Dukyana, a site that sells lots of fun, knitted goodies, this scarf is comfy, warm, and makes you look totally unapproachable — which is what every harried mom is going for this time of year. See that cowl neck artfully draped over the shoulders? It does a super neat thing that totally sells us on this being a holiday must-have.
BEHOLD.
It creates a striking silhouette, doesn't it? Just a woman and her giant scarf-tube-thingie, hiding from the world and looking fashionable as hell while doing it. We're in love.
You can also pull off a seriously sassy Resting Stitch Face (see what I did there) while sporting all that silky Angora Goat hair (yes, I looked up what mohair is made of, I'm here to educate.)
We really can't say enough positive things about the benefits of this knitted human lamp shade. Why hasn't this made it to Target, where all the moms go? I guarantee they'd sell out immediately.
If the $280 price tag is simply a no-go for you, just safety pin together a huge blanket at a few key places, and you get the same effect. This is about hiding from all your troubles, and this tube scarf merely serves as glorious inspiration in that quest.
Happy hiding!
H/T: The Cut
This article was originally published on