What To Know About Making Funeral Arrangements: A Comprehensive Guide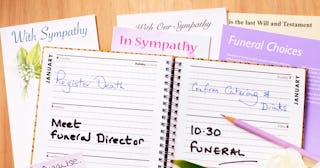 Peter Dazeley/Getty Images
Whether unexpected or not, it's difficult to prepare yourself for the death of a loved one. And now you've taken on the responsibility of handling the funeral arrangements. What happens next? How do you plan a funeral? Where do you get a death certificate? Will you find condolences and support through your grief? Can you keep yourself from melting down if someone says the wrong thing?
Anxiety. Numbness. Sadness. Relief. Regret. Denial. Acceptance. All of these feelings are normal.
Handling the details after death can feel overwhelming — and expensive. The following information will uncover some of the uncertainties and make planning a funeral a little easier.
Planning a Funeral Checklist
If possible, ask for support from friends or family to get everything done. Set a budget in advance. Funeral arrangements can cost anywhere from $800 to $10,000 or more.
Make the first calls.
You need to report the death to proper authorities. The death certificate process is jointly completed by a doctor or coroner and funeral director. The funeral director you choose to work with should provide a list of everything they need to help move the process forward.
Use this opportunity to tell immediate family and closest friends about the loss. You can grieve together and ask for support as you plan the funeral. Besides notifying those closest to the deceased, talk to that one person in your life who is always there for you. A cousin, sister, or best friend may prove to be the MVP in tough situations like this!
Find a funeral home you trust.
Keep budget and location in mind. Once you've made your choice, the funeral director will walk you through everything they need to make arrangements based on your wishes. Listen to the funeral director's guidance. They do this for a living.
Collect information for the death certificate.
Social Security number
Parents' full names
Date of birth
Name and address of employer for the deceased
Choose burial or cremation.
With cremation, you're responsible for the costs of the cremation, urn, and in some cases, a vault. With a burial, you're covering costs for embalming, the casket, and the opening and closing of the grave.
Or perhaps before passing away, your loved one said, "I'd rather give myself to science!" Donating your body to science is often free. However, the deceased must complete the paperwork ahead of time.
Pick a casket, cremation container, or mausoleum.
Metal. Wood. Biodegradable. You have many material, shape, and size options. Your loved one extra AF? Maybe a DIY glitter coffin is the right choice!
Decide on the service.
Some types of burial include:
Funeral
Memorial
Wake
Committal service — a brief graveside ritual often involving prayer
Military service
Jewish ceremony
Celebration of life
Open vs. closed casket
Skip the funeral entirely due to COVID-19 concerns
Select what the deceased will wear.
The funeral director will ask you to provide clothes. Some find it comforting to dress their loved one in a beloved piece of clothing — such as a hockey jersey or their favorite pajamas. Others will dress their loved ones more formally. Some even choose biodegradable clothing.
Notify family, friends, and place of employment.
This step can be numbing, especially while planning a funeral. Ask your MVP to help contact others on your behalf.
Write or ask someone else to write an obituary.
Set up a memorial fund so people can donate to your loved one's favorite charities in their honor. Instead of flowers, this teacher wished for backpacks filled with school supplies for needy children.
Arrange an officiant.
This person can be a religious figure, a friend, or a family member. Work with the officiant to discuss passages such as scripture and poems to be read aloud, who will perform the eulogy, the names of your chosen pallbearers, and other funeral arrangements.
Make flower arrangements.
Flower arrangements can range anywhere between $50 to $80. A wreath can cost up to $100 and a casket spray can cost around $200 to $700. Popular options for flowers include:
Casket spray
Standing spray
Specialty pieces
Prepare funeral displays such as signs, photos, videos, or memorabilia.
Consider showcasing your loved one's favorite hobby. Did they play music? Display their instruments. An active baker? Put together a photo collage of their best dishes. Was quilting a time-honored activity? Decorate the funeral with their handmade quilts.
Create a memorial guest book.
Funeral arrangements can be distracting. With a memorial guest book, you'll be able to look back and see who stopped by to pay their respects.
Print programs for service.
You can include scripture, a meaningful poem, the order of service, a thank you note, pictures, or a copy of the obituary.
Organize transportation to and from the service.
You'll need transportation for the deceased, family members, and police escorts. Other considerations surrounding the service include:
Planning the post-funeral reception
Location
Food and beverage
Set-up
Décor
Pick funeral music.
As the service takes place, you'll need a list of songs to play during the event. If the person was religious, stick to hymns or religious songs.
Check the deceased's benefits.
Find out if the deceased is eligible for any burial benefits, like military honors, veteran benefits, or contributions related to fraternity groups.
How to Plan a Memorable Service
A funeral service is held when the body is present. If the body is not present, that is considered a memorial service. Planning a memorial is very similar to planning most types of events.
Pick a format. Choose your style. Is this a celebration of life or something different? Casual or formal? Open to the public or family only?
Pick a venue. A banquet hall. A church. A park. The options are pretty vast. Or take it online! With so many people stuck at home due to COVID-19 concerns and social distancing, Zoom calls have become the norm. Some people are opting to do virtual memorial services.
Pick the participants. Clergy members may be involved in the service. If possible, pick someone who knew the deceased to lead the service. Talk to participants and guests about their availability to attend.
Pick a date. After investigating the availability of venue and guests, finalize the date and time.
Pick décor, flowers, food, beverage, and music. Display photographs, offer your loved one's favorite food, feature their favorite flower, or make a thoughtful playlist of funeral songs. This is your chance to showcase their style and personality. The process can also lead to some much-needed healing.
Whether in charge of making funeral arrangements or filling a supporting role, make a little time for self-care — this will likely prove to be one of the most challenging tasks you will face in your life. Ask for help when you need it and remember to take moments to breathe.
What if you can't afford burial costs?
It's tough burying someone you love, and the added stress of paying for the funeral can be overwhelming. If money is tight, keep in mind:
Cremation is much cheaper than a burial.
You can opt for a direct burial, which is when the body is buried quickly after death. The deceased isn't embalmed or visited by any friends or family.
If you still can't find the funds you need, sign a release form with your county coroner's office that states you cannot afford to bury the deceased family member. Then the state will help you cover the cost.
You may qualify for a funeral grant if you're the partner of the deceased, a close relative or friend of the deceased, parents of a stillborn baby after 24 weeks of pregnancy, or the parent or guardian of a child who died under the age of 16.
Jewish Death Rituals
In Jewish culture, there are many rules, one must follow during a death. If you're looking for insight on how to plan a Jewish funeral, here are several things you should know:
The body of the deceased must be cleaned and washed.
The body must be buried in a pine coffin. The deceased should be buried in a white shroud, which is called a tachrichim. during the preparation of the body, it must be watched until the deceased is buried. When a Jewish person hears about the death of someone, they are to recite, "Baruch dayan emet."
This article was originally published on