19 Funeral Songs To Help Honor A Late Loved One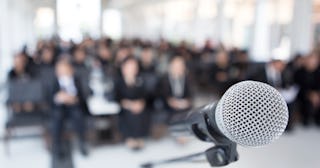 Chalongrat Chuvaree/EyeEm/Getty Images
There are few certainties in life. And one of those certainties happens to be pretty depressing — all of us are going to die someday, albeit hopefully after living long and enjoyable lives. But even saying goodbye to older adults who may be ready for this final step can be extremely difficult. Sending them off lovingly is a meaningful way to get some closure. Funeral music and funeral hymns can help you summarize their life story.
You probably already know that funeral songs are often tunes that the individual particularly loved. But it may also be music that captures their time on Earth. If you need a little direction in choosing funeral songs for your loved one, we're here to help.
How to Choose Funeral Songs
If your loved one was well-prepared and expecting to pass, they may have written their own ideas down somewhere for you to find. But if not, you could try using their musical library to find funeral songs. Focus on finding the artists they particularly loved. What if they loved heavy metal? Well, even louder bands often put out heartfelt ballads on occasion.
Funeral songs should be personal. When you hear them the day of, it's perfectly normal (and, in fact, a goal) to shed a happy tear. The best funeral music has heart. It should make you feel something and remember the extraordinary life of the person who's no longer with you.
Funeral Hymns
If the person you lost was religious, funeral hymns can be very appropriate. One of the most popular funeral hymns is called "Jerusalem," and it's based on a poem by William Blake. It reads as follows: "And did those feet in ancient time/Walk upon England's mountain green?/And was the holy Lamb of God/On England's pleasant pastures seen?"
Another popular hymn is "Amazing Grace," and even those who don't actively follow Christianity are likely familiar with it. It goes, "Amazing grace!/How sweet the sound/That saved a wretch like me!/I once was lost, but now am found/Was blind, but now I see."
"All Things Bright and Beautiful" is another good choice, especially if you're looking for something more upbeat and positive. Cecil Frances Alexander authors the hymn, which starts out with "All things bright and beautiful/All creatures great and small/All things wise and wonderful/The Lord God made them all."
Modern Funeral Songs
If the person who passed isn't traditional, you may want to find some modern funeral songs to play during the service. A popular one is "Over The Rainbow" by Eva Cassidy, a somberly beautiful choice. "Angel" by Sarah McLachlan is another favorite, especially since it's not as often tied with the SPCA animal ads that once aired on television.
"My Way" by Frank Sinatra is reportedly one of the most popular funeral songs chosen. Another enduring pick? "Wind Beneath My Wings" by Bette Midler.
Rock Funeral Songs
Funerals don't have to be sad. If the person you lost was a free spirit, they probably hoped everyone would show up to the service in bright colors and be happy among mutual friends. This kind of individual would likely treasure a funeral song with a little bit of a beat.
"Good Riddance (Time Of Your Life)" by Green Day is an excellent choice, as is "Knocking On Heaven's Door" by Guns 'n Roses. Fora more somber rock song, "Hear You Me" by Jimmy Eat World could work. Ultimately, the song should be by a band that your loved one truly cared about. Even if a song's melody may not seem overtly appropriate for a funeral service, the lyrics may say everything you wish to express. To that end, you might consider hiring someone to sing a cappella or slowed-down acoustic version.
R&B Funeral Songs
R&B music often has a lot of heart and soul, making it a great fit to help you mourn someone you love.
"Really Gonna Miss You" by Smokey Robinson is a gorgeous classic that'll be much appreciated by those who attend the service. "It's So Hard to Say Goodbye to Yesterday" by Boyz II Men will also get a strong reaction. "See You Again" by Wiz Khalifa became a popular song for funerals and memorial services after being chosen to pay respects to the late Paul Walker. If your loved one happened to be a John Legend fan, "Love Me Now" serves as a poignant funeral song choice.
Funeral Songs for Dad
Saying goodbye to a father is a unique and heart-wrenching experience. To give him the best send-off, choose one of these tunes below. Each embodies the strength and beauty of a child's relationship with their dad.
"You Raise Me Up" by Josh Groban is a reminder of a dad's support and encouragement. "Dance With My Father" by Luther Vandross is a slow ballad that will evoke nostalgia. "The Living Years" by Mike & The Mechanics, "My Father's Eyes" by Eric Clapton, and "Sometimes You Can't Make It on Your Own" by U2 are respectful and sweet tunes that have a sorrowful tone.
More funeral songs for Dad
All Must Be Well by Matthew Smith
A Song for Dad by Keith Urban
Broken Halos by Chris Stapleton
Bye Bye by Mariah Carey
Fathers and Daughters by Michael Bolton
Footprints in the Sand by Leona Lewis
Homesick by MercyMe
I'm Already There by Lonestar
In Loving Memory by Alter Bridge
Long As I Can See the Light by Credence Clearwater Revival
My Way by Frank Sinatra
Thank You For Being My Dad by Jon Barker
Satisfied Mind by Johnny Cash
Stairway to Heaven by Led Zeppelin
We'll Meet Again by Vera Lynn
What A Wonderful World by Louis Armstrong
You Should Be Here by Cole Swindell
A Note About Funeral Music
If a song personally moves you, that's an excellent sign that it's a good funeral song for your loved one. After a death, song choice may be the last thing on your mind. But if you listen to your heart and research some lyrics, you'll find the perfect tune to honor their memory.
Quotes About Attending Funerals
Dealing with sadness and heartbreak is hard, and finding someone who understands what you're going through is even harder. If you're nervous about attending a funeral, check out these quotes from people who get it.
"Always go to other people's funerals, otherwise they won't come to yours." — Yogi Berra
"They say such nice things about people at their funerals that it makes me sad that I'm going to miss mine by just a few days." — Garrison Keillor "I want words at my funeral. But I guess that means you need life in your life." — Markus Zusak, The Book Thief "I did not attend his funeral, but I sent a nice letter saying I approved of it." — Mark Twain
This article was originally published on