Rejoice: You Can Now Turn The Entire Family Into LEGOs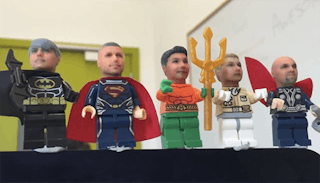 Image via Funky 3D Faces
3D printing now lets you become a LEGO minifigure
A company is using 3D printing technology to allow you to put your own face on a LEGO minifigure. Yes, that's right, you can even turn the whole family into LEGOs if you want to.
Just in time for Christmas! Or maybe Halloween? Because they're creepy AF!
Looking for the perfect stocking stuffer for your LEGO-obsessed kids?
Funky3DFaces has the solution. The UK-based company is selling custom LEGO minifigures that are adorned with the face of your choice for only 34 bucks a pop.
All you need to do is take a couple of selfies – one of your unadorned face (no glasses, nerd!) and one of the side of your head, and send it in! (Don't worry, their website has a full set of photo guidelines to make sure your LEGO doesn't end up looking like the bad guys at the end of Raiders of the Lost Ark.)
You can even change up your hairstyle or color. What you can't do is get a LEGO-sized version of your body – capturing that proved too expensive for the company to maintain – but that's actually a perk, because it allows you to plop your face on any minifigure body you want!
The Justice League:
Jedi:
Your worst nightmare (we kid, we kid), a bride and groom:
(The bodies are available on Amazon. Which sounds weird and morbid and is also probably inevitable?)
These things are definitely a fun way for kids to insert themselves into their LEGO adventures.
Or for adults to get kinda weird.
3D printing technology is impressive, but as Jeff Goldblum's scientist says in Jurassic Park, "Your scientists were so preoccupied with whether or not they could, they didn't stop to think if they should."
We're joking, of course. Mostly.
I'm a tad conflicted about this, because I know my LEGO-obsessed 7-year-old would love to put his own face on his Batman and Ninjago and Beatles LEGO, but they kind of freak me out!
The bottom line is the price, which isn't bad at all. Thirty-four bucks (via Etsy) is a small price to pay for parents being able to add their toddler's LEGO heads to the pile we step on every night.
This article was originally published on