The Comments On This Swimsuit Ad Are Comedy Gold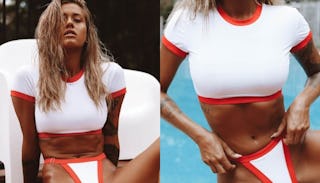 Image via Boutique Beginnings
Women flocked to the comments on this swimsuit ad to point out the model's lack of, um, parts
Now that the holidays are in the rearview mirror, spring break advertising is coming in hot. That means swimsuits of all varieties are popping up in our news feeds. But one in particular caught a whole lotta people's attention for its bold colors and, er, smooth lines.
Beginning Boutique posted on Facebook about some "red hot swim" that just dropped, and it left commenters a little — perplexed. And by perplexed, we mean there was a visceral reaction to this poor woman's LOL (Lack Of Labias). I'm no mathematician, but there should definitely be an inner and an outer and it appears this model has neither, which, bless.
Obviously, folks who saw this ad had a couple of questions for its designer (after a significant amount of time scratching their collective heads). Namely, can a person with an actual vag wear one of these and if so, could we get a side-by-side comparison of a vag-carrying woman so we know what we (and the rest of the beachgoers) will be dealing with come Spring Break 2019?
Related: These 9 Bestselling Swimsuits Have A Cult Following On Amazon — And They're All Under $30
Related: The Coolest Rash Guards For Parents Who Don't Want To Bare It All (Or Get Sunburn)
According to their website, this 9.0 Swim Heyman suit is "made from a white swimsuit material," and the swimsuit top "features red trim around the hems and short sleeves in a gorgeous 90s style," and can be worn over your favorite white bikini.
Wait, we're going to have to decide which of our white string bikinis will fit under the top of this skin-tight number? That's totes uncool, guys.
To be fair to the model pictured, it does look like zero percent of their models have actual hoohas, which is either due to the magic of Photoshop or… some other kind of magic.
While many of the commenters pointed out there's no way in hell these suits are made for someone who has birthed a child, I'll be the first to say my minge didn't even remotely look like this when I was 22. So, there's that.
Listen, I'm not hating on these ladies. They look amazing. It's clear they take care of themselves, work out every (and I mean every) part of their bodies, and have managed to get through life without a hint of a stretch mark or scar. Good on them. I'm just sayin' if you're concerned your nether region may not be up to snuff in a white number come beach time, they also come in black. Because, black is slimming and it's clear slim vaginas are in this year.
Thank goodness for the commenters, who gave us all #comedygoals instead of #vaginagoals, because omg please don't ever let that become a thing.
This article was originally published on