Gabi Fresh Debuts Sexy Collection Of Retro 'Barbie' Swimsuits
by Valerie Williams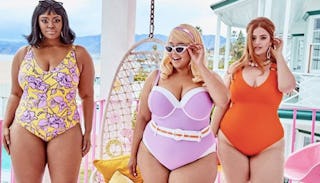 Image via GabiFresh/Instagram
Gabi Fresh x Swimsuits For All have the "Retro Barbie" swimsuits of your dreams
If you've never heard of fashion blogger and designer Gabi Fresh, then allow us to introduce you. She's a fierce advocate for body positivity and designs inclusive clothing, lingerie, and swimsuit lines to die for. Her latest swimsuit line, a collaboration with Swimsuits For All, is no exception.
Related: These 9 Bestselling Swimsuits Have A Cult Following On Amazon — And They're All Under $30
Warning: you're going to want one of everything.
Gabi took to her social media channels today with some eye-popping photos of herself and several super hot models wearing what she's calling "Retro Barbie" swimsuits that have a definite vintage flare. There aren't enough flame emojis in the world for these pics.
"Retro Barbie, but make it fat 💅🏽my new @swimsuitsforall collection is out now!" she captioned the images.
Related: The Coolest Rash Guards For Parents Who Don't Want To Bare It All (Or Get Sunburn)
Gabi is one of the brilliant minds behind the plus-size fashion brand Premme, which she launched almost two years ago with friend and fellow fashion blogger Nicolette Mason. The designs are stunning, fun, and affordable — just like these smokin' hot swimsuits.
Like this "Girlfriend" belted one-piece that will make you look like a literal Barbie doll.
The suits come in sizes 10-26 and the bikini tops are in cup sizes up through G/H. This "Dollhouse" high waist bikini has completely stolen my heart.
The collection doesn't stop at bikinis and one-pieces. Check out this ridiculously cute monokini in a polka dot print.
I'm totally coveting this V-neck one-piece for its flattering silhouette and super summery pattern.
Is it reasonable to own a dozen swimsuits? Because, hello, I need this one too.
And you're going to want this stylish and citrusy maxi as your swimsuit coverup until the end of time, pretty much.
Of course, Gabi is more than just a designer of gorgeous swimsuits and clothing in an array of sizes for all bodies. Last year, she shared with Teen Vogue her thoughts on inclusivity and representation in the fashion industry. "I wanted to show true diversity in shapes and sizes, and unfortunately model agencies simply don't have a lot of that diversity on their boards. Even when they have plus-size models, they often stop at size 16 and are almost always hourglass figures. I wanted to show women who represented the full range of my collection, from size 10 to 26. All bodies are beautiful and deserve visibility!"
Hell. Yes.
And as far as her stunning swimsuit lines go? She's thrilled to be bringing variety and style to women of all shapes and sizes. "I'm really proud of my work with Swimsuits for All. Each season, we try to do something that hasn't been done before, and I really think this is the most diverse major swim campaign I've seen. I love that I'm able to truly be creative not only in designing quality swimsuits in a large range of sizes but also with our visual imagery — and I hope people love this collection and photo shoot as much as I do!"
This article was originally published on