Gabrielle Union Reportedly Fired From AGT For Speaking Out About Racism And Sexism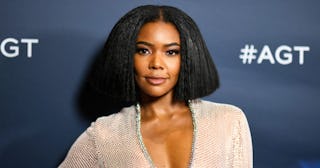 Frazer Harrison/Getty
A troubling new report claims Gabrielle Union got the ax at AGT for speaking up about problematic behavior
When news broke on Friday that Gabrielle Union wouldn't be returning to her chair on America's Got Talent next season, it came as a shock to fans. Not only a popular fixture on the reality TV talent competition, she also acted like its best PR rep — her behind-the-scenes posts on social media deserved a golden buzzer of their own. Also? Someone needs to cut Union's baby girl Kaavia James a check, because her on-set antics surely brought in some new viewers.
But as Variety reported on Nov. 22, Union (along with fellow judge Julianne Hough) will not return for the 2020 season. The initial spin seemed pretty standard — Union is reportedly leaving because she's so busy "with other projects." This tracks, at least on the surface level. Union is currently hard at work on L.A.'s Finest, a female reboot of the Bad Boys franchise. Which, let the record show, we can't wait to watch.
In a potentially disturbing new development, though, Lovebscott.com reports that there's more to the story. The site alleges that NBC sources claim Union's firing is the result of her speaking up about "problematic" behind-the-scenes behavior.
"[Union's] contract was not renewed after being the #1 talent on the show, NBC, and network TV. She set the record for the Golden Buzzer. They only replace the women and blacks at Simon [Cowell's] whim," the source allegedly said. "She wouldn't walk away from $12 million because she's 'busy.' Based on weekly interactions on social media, by the time the AGT finale aired Gabrielle was the #1 talent on network TV for 2019. Why not pick up someone's option in extreme success?"
The NBC source went on to assert that firing Union and Hough didn't make sense from a viewership standpoint. "Social media engagement is the new measuring stick for talent and Simon isn't on social media. Julianne and Gabrielle were both way higher ranked/engaged than Howie [Mandell]. The idea the network wants to 'switch things up' only applies to women and black folks," the source insisted.
This isn't the first time NBC — and AGT specifically — has been at the center of racism and/or sexism accusations. In 2017, Nick Cannon quit the show via social media, dragging the network in the process. He took to Facebook to explain that he would not return due to conflict with NBC over his "blackness." Basically, he made a joke during a stand-up comedy special about NBC making him lose his "black card." That joke reportedly didn't sit well with the network, who Cannon says threatened him with termination over it.
"This has weighed heavy on my spirit," he wrote. "It was brought to my attention by my 'team' that NBC believed that I was in breach of contract because I had disparaged their brand. In my defense, how so? Or is this just another way to silence and control an outspoken voice who often battles the establishment?" He made it a point to say that there is "no amount of money" worth his dignity or integrity.
Lovebscott's source alluded to as much, telling the site, "Nick Cannon wasn't crazy. He walked away from 8-figures over how [AGT] operates." So, as the source tells it, Union's firing isn't evidence of the start of a problem but a continuation of ongoing problematic behavior. The source added, "Let's just say they didn't start the racism, homophobia, transphobia, Islamophobia, etc. in season 14, They were quite comfortable with it all by the time Gabrielle got there. Remember Nick said 'NBC stands for N*gga Be Careful.'"
It's also worth noting that Melanie Brown, Tyra Banks, and Heidi Klum all left the show last year. Reps for NBC, Union, and Hough have not yet commented on the nature of these newest departures. However, the insinuation in the initial announcement was that the exits were simply part of the series' regular rotation of panel judges.