Gabrielle Union Is Hosting An All-Black Table Read Of 'Friends'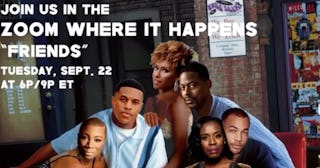 Instagram/Kendrick Sampson
Gabrielle Union will host a live table read of an episode of the beloved sitcom with Sterling K. Brown as Ross
Just like Golden Girls did, the beloved '90s sitcom Friends is getting an all-Black table read hosted by none other than Gabrielle Union — who actually starred in an episode of the show way back when. The live table read will also feature Uzo Aduba, Ryan Bathe, Aisha Hinds, Sterling K. Brown, Kendrick Sampson, and Jeremy Pope.
The actors will re-enact the classic episode "The One Where No One's Ready" from season 3 of the show, which is honestly such a wonderful bottle episode. Sterling K. Brown will be perfect as the neurotic Ross, who is a total jerk up until the very end when he very nearly guzzles down an entire glass of strained fat.
For this reading, Aduba will play Phoebe, Bathe will play Rachel, Hinds will portray Monica, Brown will appear as Ross, Sampson will take on Joey, and Pope will be Chandler. PERFECTION.
In the episode of the actual show Union appeared in, she portrayed "Kristen," a woman who earned the affection of both Joey and Ross — hijinks ensue, Joey and Ross try to place bets on who she'll end up with, she leaves them both like the true feminist hero we need, and both guys are left alone in a restaurant together.
The Friends reenactment is the second installment of "Zoom Where It Happens," a live table-read series presented by Black women artists with a goal to mobilize voters. This week's performance aims to connect viewers with When We All Vote, a nonpartisan voting initiative founded by former first lady Michelle Obama.
The first episode starred Tracee Ellis Ross, Sanaa Lathan, Alfre Woodard and Regina King doing a re-creation of a classic episode of The Golden Girls.
The original Friends has long faced criticism for its lack of diversity. Aisha Tyler was the first Black actor to have a major role on the series in all 10 seasons. Earlier this summer, co-creator Marta Kauffman acknowledged the sitcom's lack of diversity.
"Zoom Where It Happens" launched earlier this month and will continue with a rotating cast of actors through Election Day on Nov. 3, 2020.
This article was originally published on