Pass The Tissues: Gabrielle Union Shares Emotional Birth Story Video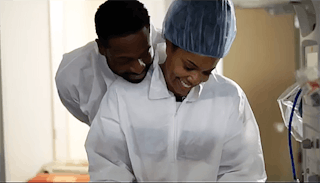 Image via Instagram/Gabrielle Union
The actress and new mom shared what it was like to struggle with infertility – and to finally hold her baby girl
In a touching and emotional new video, actress Gabrielle Union-Wade and NBA player Dwayne Wade shared their long journey to having a baby together, along with footage of the moment their daughter, Kaavia James Union Wade, was welcomed into the world in last month.
The new mom shared the video to her 11.5 million Instagram followers yesterday, after being vocal about her fertility and health struggles since her marriage to Wade in 2014. The eight-minute mini-documentary covered the couple's path from IVF and suffering "eight or nine" miscarriages, to finding out about Union-Wade's health issues, to finally finding a solution by getting a surrogate to carry their child.
"Every family is unique," Union-Wade wrote below the video. "How each family is created and comes together is special. Kaavia James Union Wade journey into our arms was long and at times brutal. There were heartbreaks that nearly broke us and streams of tears that turned into raging rivers. And then came Kaavia James. This is our birth journey. Thank you all for the love, support and understanding and all the people who held us up when we lost hope. Watch it with love. Watch it with hope."
The video opens with the couple talking on a couch about how far they've come.
"We're finally getting to the place where there's this little person that will call me mom," Union says, smiling. "We're just so grateful and so thankful for the gift that they've given us."
The video them moves to the family's baby shower, and a speech Union-Wade gives to her guests, all holding flutes of champagne.
"We just want to thank everyone, because it's definitely not always been a fun or easy or understood journey. And we're just incredibly excited and nervous and blessed," she says.
She also talks about her diagnosis with adenomyosis, a condition when the endometrial lining breaks through the muscle wall of the uterus. Not only is it painful, but it also makes carrying pregnancies difficult.
"It wasn't actually the problem of getting pregnant, it was holding the baby," she continues, explaining why having a surrogate carry the baby (which was conceived with Union-Wade's egg and Wade's sperm) was the best choice for their family.
"There's so much shame and guilt and mystery surrounding fertility issues," she says. "And that's why I wanted to include it in my book. Because I'm tired of it. It needs to stop."
Finally, the video moves to the delivery room on the day of the baby's birth by cesarean section, as her biological parents look on in masks and gowns.
As the baby is born and held up by a doctor, Union-Wade holds her hands to her mouth, shaking and crying.
"Her mouth looks just like D, her eyes look just like D," she says. "It's us! It's your people!"
"To have her in this moment is all worth it," Wade says, holding his daughter. "All of the sacrifice, a lot of it from my wife."
The couple began dating in 2009, and were married in 2014. Union-Wade is the stepmom to three boys from her husband's previous relationships, Zaire, 16, Zion, 11, and Xavier, 4. The family also cares for Wade's 17-year-old nephew, Dahveon Morris.
"Everyone's route to motherhood and parenthood looks different," Wade says at the end of the video. "And there is no right way."