Gabrielle Union Reportedly Fired From 'AGT' For Calling Out Jay Leno's Racist Joke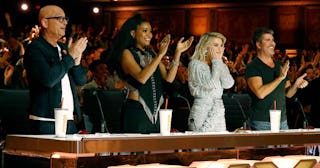 NBC
Gabrielle Union fired from America's Got Talent for calling out the show's "toxic culture," flagging a racist Jay Leno joke, among other things
A few days ago, word broke that Gabrielle Union had been let go after a one-season stint as a judge on America's Got Talent for reportedly speaking out against racism and sexism on the AGT set. Now, new details have emerged on what exactly happened. Earlier scoops by reporter B. Scott claimed that NBC took issue with Union calling out "problematic" situations on the show and now Variety is reporting that one of the situations involved Jay Leno and consistently racist notes about Union's hair.
Multiple insiders confirmed to Variety that there was a "toxic culture" on the AGT set — a culture that Union refused to accept.
Leno, along with show judges including Union and Julianne Hough (who was also let go), taped an interstitial segment in which Leno made a joke that a portrait of Simon Cowell with his dogs looked like something one would find "on the menu at a Korean restaurant." Four people present at the taping confirmed this racist "joke" to Variety and stated that many were offended, but it was only Union who urged production staff to report the joke to HR. Eventually, staffers mentioned the racist line to NBC executives, but it was never reported to HR.
Other insiders added that while Hough was constantly noted and criticized about her appearance on the show, Union was specifically told by executives many times that her hairstyles were "too black" for the AGT audience. There was also another incident where Union asked producers to cut a white male performer who impersonated Beyonce, complete with "black" hands.
Although Union did not confirm or deny these reports, her husband Dwyane Wade seemed to confirm that NBC couldn't handle a woman who advocated, called out, and forced her colleagues and superiors to question the everyday racism they have seemingly enabled for years.
"When i got the news that my wife was being fired—my first question was obviously why!? I am still waiting on a good answer to that question," Wade tweeted on November 27, 2019. "…You know she's an advocate for our community and culture. As proud as i were of her being selected as a judge on #AGT— Iam even more proud of her standing up for what she stands for and that's US."
Here's to Union moving on to bigger and better projects. AGT doesn't deserve her.