Cop Responds To Noise Complaint About Kids Playing Basketball...By Joining The Game
by Valerie Williams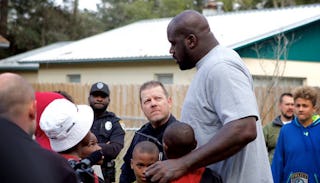 Image via Facebook
A Gainesville police officer had the best response to a noise complaint and the next day, everyone got a big surprise.
A police officer responded to a noise complaint of kids playing basketball too loudly in the street. Instead of reprimanding or punishing them, he played with them and wrapped it up with a polite and respectful conversation. This fantastic story doesn't end here, though. The officer promised the kids he'd be back to play with some backup. And neither he or the kids had any idea how big that backup would be.
Officer Bobby White is with the Gainesville, Florida police department. According to News4Jax, he was dispatched last Friday to check on the complaint. White probably expected to be met with some difficult kids causing trouble. Instead, he happened on a relaxed and cheerful bunch of teen boys and after playing basketball with them for a few minutes, said "Have fun. Glad to see y'all doing this than out there causing problems. You play here every day? Okay, I'm going to try to bring some back-up out here tomorrow and we'll get a game going." Check out the dashcam video that caught the entire exchange.
Cool, right? The kids probably brushed it off, assuming the officer was just being nice and probably wouldn't return. And that's where they'd be extremely wrong.
Officer White formulated a plan to gather other members of the department to go back to the scene of the complaint and play a pick-up game with the kids. He had no idea that none other than former NBA star and celebrated Florida resident Shaquille O'Neal had caught wind of his story. And had plans to surprise both Officer White and the kids.
After a stop at the department headquarters to praise White for how he handled the complaint, O'Neal and several other officers headed to the place where the kids would be playing and gave them the shock of their lives. Officer White approached the kids saying, "Told you I was gonna bring some backup, right? You guys ready?" When out of a huge SUV, steps O'Neal, to the delight and shock of the kids and assembled neighbors watching the whole thing.
Shaq not only played with the kids and the police officers, he took time afterward to give the boys some advice, reminding them to "respect their elders" and that they could be anything they wanted to be. He also told them he came from the same neighborhoods they did and that it was up to them if they wanted to change things, implying that they too could become a famous basketball star if they're willing to work hard. The kids were clearly awe-struck, as was the assembled crowd of spectators and police officers. This is certainly a day these children and Gainesville residents won't soon forget.
It's difficult to estimate what kind of positive effect a visit from someone like O'Neal could have on these kids and while this occasion was definitely memorable, it's the attitude of the local police force that will matter to them more as they grow up.
The dashcam video of Officer White responding to the noise complaint ends with this quote from the Gainesville Police Department: "We're going to let kids be kids. We are going to focus on the ones that commit crimes. #HoopsNotCrime." What a wonderful message. They've definitely got the right idea and hopefully, other law enforcement agencies will take their lead in handling similar non-crimes.
This article was originally published on