This 88-Year-Old's Dying Wish Was To See 'The Battle Of Winterfell' On GoT
by Thea Glassman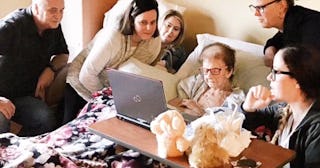 HopeHealth via Facebook
The Game of Thrones cast helped make a hospice patient's last wish come true
Claire Walton, an 88-year-old hospice patient, had one last wish before she passed away. She wanted to watch the third episode of Game of Thrones. The cast of the show came through big time for her, not only sharing the episode but sending along video messages of love and support. Three very, very big cheers to all the folks in Winterfell.
When Walton's caretakers at HopeHealth Hospice Center found out about their patient's wish, they decided to go the extra mile to make her happy. According to The Providence Journal, they reached out to their network and managed to land ten (!) video messages from members of the Game of Thrones cast.
"Our patient Claire's big wish was to watch the third episode of Game of Thrones tonight," the hospice center wrote on Facebook. "We did one better! Game of Thrones cast sent videos of well wishes, to the delight of Claire and her family. #Hospice #MoreMoments #GameofThrones."
Walton was surrounded by loved ones while she watched all of her messages. "I know you can't be here today but I just wanted to say hello and that you are with us in spirit and that we're thinking of you and sending you all our love," Miltos Yerolemou, who played Syrio Forel on the show, said. "And I hope this message brings a smile to your face."
Liam Cunningham – aka Sir Davos Seaworth – also hopped in to share a few words of kind support. "How you doing, Claire? It's Liam here. You might know me as Sir Davos Seaworth," he said. "I hope you're fit enough to watch the battle, which is tonight. I wish you the very best. I hope your days are not bad and I hope you can manage. Take care."
Josef Altin (Pypar) wanted to send his very best to Walton, as well. "Someone said you were a really big fan of 'Game of Thrones,' so I just wanted to make this video and send it you and to send you my love and well wishes. Enjoy this Sunday. It's going down. Lots of love, darling. Love you." he said in his video.
AND, just under the wire, Ser Meryn Trant made a quick cameo in the comment section, sending lots of love and prayers Walton's way. "I hope you have a wonderful, wonderful episode three, the Battle of Winterfell. I hear it's going to be the best episode ever."
If you're currently feeling very emotional right now, you're definitely not alone. Lots and lots of people took to Facebook to share how touched they were and sent all of their applause to the hospice center and the cast of Game of Thrones.
Sadly, Walton passed away on Monday evening. HopeHealth Hospice Center said that she had a chance to watch the outpouring of videos being sent her way. "Thank you for all your help with getting these videos!" they wrote in the comment section. "They put such a smile on Claire's face."
This article was originally published on