Someone Left A Starbucks Cup On A Table In Westeros And Fans Are Losing It
by Julie Scagell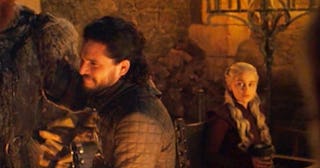 HBO
Even the Mother of Dragons needs a little caffeine to get by
If you are a Game of Thrones fan, you likely tuned in last night for episode 4. You know there were plenty of twists and turns — some we were prepared for, others very much not (you go, Brienne). That's as far as we'll go on the (lack of) details because everyone hates a spoiler. But there's one thing about the episode some fans pointed out definitely should not have been included — a Starbucks cup.
As viewers waited with bated breath to see what would go down after last episode's intense Battle of Winterfell, one thing no one saw coming was Daenerys sitting somberly while looking into the crowd with a tall Starbucks cup sitting in front of her.
Fans were understandably, um, perplexed at the notion that not one of the thousands of people in the room, on the editing team, or in production wouldn't have seen the offending cup and thought, "you know, I don't think Starbucks existed anywhere in the Seven Kingdoms of Westeros."
People couldn't wait to take to Twitter to express their utter shock:
It's pretty unmistakable when you look at it. Among all the goblets of wine, candles (which we all appreciate because we can actually see people this week's episode) and beer steins there it is, all innocent looking like it's just supposed to be there. I guess with almost 30,000 Starbucks locations worldwide, it's never completely out of the question. And since they're all still thawing out after winter came and knowing Cersei is out there plotting their imminent demise, it's understandable that they might need a vanilla latte to get through the day.
According to Cinema Blend, the last episode took 55 successive nights to film, which is a gigantic undertaking. In fact, the producers thanked the cast for all their hard work, saying, "For enduring 55 straight nights. For enduring the cold, the snow, the rain, the mud, the sheep shit of Toome and the winds of Magheramorne. When tens of millions of people around the world watch this episode a year from now, they won't know how hard you worked. They won't care how tired you were or how tough it was to do your job in sub-freezing temperatures. They'll just understand that they're watching something that's never been done before. And that's because of you."
Since this was filmed last year, unfortunately for Daenerys, she was unable to partake in Starbucks' new color-changing reusable cups, which would've come in handy during last night's episode, because she literally went through every emotion out there and it would've been nice to have a color-coordinated cup to ride that wave with her. She's been through a lot this season, we'll give her that.
I guess after filming eight seasons of one of best series to ever grace us with its presence, there are bound to be mistakes made. If that boils down to one rogue Starbucks cup, so be it. If they kill off Tyrion that's going to be a whole other story.