Dress Your Tiny Rebel In Gap's New 'Star Wars' Line For Kids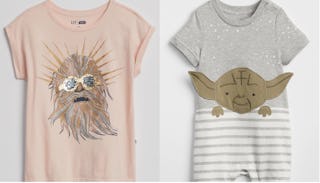 Image via Gap Kids
Get ready to give The Gap all your money, because this Star Wars line is too cute to pass up
May the Fourth, otherwise known as Star Wars Day (May the Fourth be with you, get it?) is rapidly approaching. Are you and your little nerds ready to celebrate in the best way possible? If not, The Gap has you covered.
RELATED: These Adorable Baby Jean Jackets Will Make You Want To Match With Your Mini
Its newly released line of Star Wars apparel for babies and kids is seriously nerdy-cute. Like this rose gold Chewbacca top, which combines Star Wars with one of the trendiest colors you can buy right now.
Pair it with this Storm Trooper skirt, and you've got the complete look for a Star Wars loving kid.
There's also this completely adorbs, sequined "Best Friends" top for your little one to sport with their BFF, perhaps?
Way to go Gap for taking something that's usually geared toward boys (Star Wars), and creating a line with a ton of great options in girls' sizes. But that's not all there is. Boys sure aren't being left out of the fun. The line has a ton of offerings in both boys' and men's sizes, too.
From polo shirts:
Or even a pair of subtly patterned board shorts:
There's something in this line for every boy (or girl, or anything else, because clothing doesn't have to be inherently gendered).
Even the littlest kiddos can get in on the fun. Someone please dress their kid in this toddler-sized jean jacket and send me a pic ASAP, because it's just too cute.
Toddlers also have their own shirt and shorts options, plus these precious shoes and a bucket hat modeled after R2D2.
And even the littlest Jedis can get in on the fun. Gap also has a few offerings for babies in its Star Wars line, including a couple of onesies, and an adorable newborn hat. We honestly can barely handle the Yoda onesie.
The only downside is that there are shirts in men's sizes, but not women's, making it a little tougher for the whole family to head to Gap as a one-stop-shop to get matching looks. Still, there's plenty of Star Wars stuff out there, even though Gap's is officially the cutest on the market this spring. May the Fourth be with you!
This article was originally published on