Gay Men Reclaim #ProudBoys Hashtag And Troll Racist Idiots
by Cassandra Stone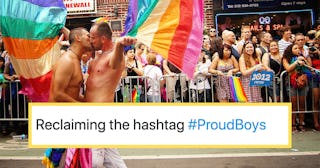 Vivienne Gucwa/Getty and @Blue_Texas2020/Twitter
Gay men on Twitter have been flooding everyone's newsfeeds with images of gay love instead of racism
During last week's presidential debate, moderator Chris Wallace asked Trump if he'd condemn white supremacy live, on-air, once and for all. To no one's surprise, Trump refused to denounce racist hate groups like the Proud Boys, and instead told them to "stand back and stand by," further inciting their hunger for hate crimes and violence.
Because of this, actor and activist George Takei suggested the perfect way to drown out all the social media attention the Proud Boys were receiving and reveling in — by replacing the #ProudBoys hashtag with something a little… different. Something gayer. Something happier and full of love, something that would be sure to piss off the Proud Boys and their presidential leader.
Immediately, gay couples took to their social media accounts to share photos of themselves and their partners kissing, embracing, and just generally being in love and lovely.
Famous celebrities like Andy Cohen, Bobby Berk from Queer Eye, and actor Matt Bomer got in on the #ProudBoys love, too, sharing photos for everyone to fawn over.
Some of the best #ProudBoys images blew up on Twitter, tugging at the heartstrings of everyone who saw them. Which is one zillion times better than any post or story that hashtag has ever been shared with before.
The Twitter account for the Canadian Forces in the United States shared a photo that has been extremely well-received, showing a service member in uniform kissing his beloved. Canada has honestly never looked better, tbh.
Other posts showcased #ProudBoys who have been together for decades.
One woman tweeted a photo of former Democratic candidate Pete Buttigieg and his husband, Chasten.
Not to be outdone, other groups of gay men shared images and videos showcasing their gay pride — because people without partners still deserve to get in on the love, too!
Proud Boys (the hate group) were founded in 2016 by Gavin McInnes in a quest to create more "men's clubs" in the modern era. According to various sources surrounding the group — which has been banned from most major corners of the internet for being a hate group –, the requirements to join include: 1.) Being a man; and 2.) declaring you're a "Western chauvinist who refuses to apologize for creating the modern world."
The "modern world" theory, in case you're wondering, surrounds the notion that Western civilization and colonization is the superior culture and way of living. The Anti-Defamation League has deemed the actual Proud Boys ideology "misogynistic, Islamophobic, transphobic, and anti-immigration."
The Proud Boys group grew and their violence escalated after Trump was elected in 2016. According to the Southern Poverty Law Center, Proud Boys were behind many extremist gatherings, most notably the "Unite the Right" rally in Charlottesville in 2017 that resulted in the murder of an innocent protestor, Heather Heyer. This rally, and many of their major gatherings, bring together Klansmen, antisemites, Southern racists, and militias.
Watching the hashtag of this particular hate group, whom the President deems "fine people," get hijacked with images of gay love, happiness, joy, and unity is truly social media at its finest.