Geese Dropped A Gross Surprise On Disneyland Visitors And The Internet Lost It
by Mike Julianelle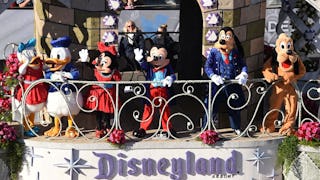 Image via Robyn Beck/Getty Images
A flock of geese did a fecal fly-by on visitors to Disneyland and the internet loved it
Friday night, the happiest place on earth might have shed that title, if only for a little while, when a bunch of geese flew over the park and made a special delivery. Bringing the family to Disney always carries with it the potential for a category five shitstorm.
This time, it happened. Literally.
The story on BuzzFeed explains that 11 adults and six kids were pelted with a substance most foul during their visit to the iconic theme park.
Or should we say, fowl?
After an initial report that someone had possibly gotten a little too scared in the Haunted Mansion, a Hazmat team that was called in determined that park guests, thankfully, weren't hit with human poop. Geese flying overhead were to blame for the random turd attack.
The cops quickly took to Twitter to reassure the public that "no crime occurred." No crime within their jurisdiction at least!
Not exactly a fairy tale ending for the people hoping to enjoy a day in the Magic Kingdom, but thankfully the internet is here to make sure not all joy was drained from the situation.
It didn't take long before the jokes were flying as haphazardly as geese poop.
Some went the pun route.
Others played on the park's nickname.
At least one person gave the geese some diabolical credit.
And another speculated that a beloved character may have finally snapped.
https://twitter.com/jetpack/status/873420073251123200
After the incident, the Anaheim PD reassured everyone that there was no harm, no fowl, and fun continued to be had by all.
All joking aside, you can't really blame the geese.
Sure, they have every right to be upset that they somehow haven't rated a Disney flick of their own in the past 75 years. I mean, deer? Flying elephants? Whatever "Stitch" is? They all had their days in the sun.
It's understandable that they would be wondering when they'd finally get their doo. I mean, due.