18 Gender Reveal Party Ideas That Are Fun, Unique And, Yes, Even 2020-Friendly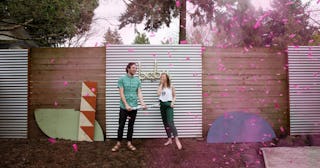 EyeWolf/Getty Images
Looking for more ideas to celebrate your soon-to-be little one? Check out these fun gender reveal games and baby shower games, plus ideas for easy baby shower centerpieces, baby sprinkles, and baby shower invitation wording.
Surprise! You can have a gender reveal party and not cause a national catastrophe. You may still be reeling from the one that ended up causing a 10,000-acre wildfire in California this September, but it shouldn't stop you from wanting to celebrate the biological gender of your baby. Luckily, there are safer ways to celebrate a new arrival. Gender reveal party ideas of today may be a little different than they would have years back, especially since everyone's trying their hardest to avoid in-person gatherings. But, it can still be quite memorable.
Of course, celebrations regarding babies are a lot like weddings. There may be a lot of big events and Instagram-worthy moments, but the most important part is being a legally united couple. So, remember: Even if your gender reveal doesn't go off the way you thought it might, the key takeaway is that you get to welcome a healthy and happy baby who'll always be a big part of your life.
Here are some great gender reveal party ideas that your guests won't forget.
Have guests wear pink or blue face masks. The color they choose should reflect what they think the baby will be. This is a great way to keep track, and will also serve as an amazing photo op of your family and friends.
Play the "Alphabet Baby Name Race Game." Make cards, or print out papers, with every letter of the alphabet. The first guest to put a valid baby name under each letter wins. It's even more fun if you make it a little trickier. Perhaps guests can only use celebrity baby names or pop culture baby names in their count.
Make gender reveal cookies. Who doesn't love a cookie? Ask a local baker (or a good friend) to whip some up so that everyone can have their own mini-reveal.
Think up unique gender reveal themes. Are you fans of Game of Thrones? Then maybe a dragon egg reveal is right up your alley.
Consider a balloon party display. Balloons signify "party" — and it's hard to have a baby gender reveal without them. This display set from Amazon is actually re-usable, which is great if you're planning on having kids back-to-back.
Make party punch. If you have kids in your family already, this would be a great way for them to feel included. Brainstorm ideas for blue drinks and pink drinks. Kool-Aid would likely be a great choice. Then, you can have your child host the beverage station and keep count of how many guests chose blue over pink.
Make your own scratch-offs. Who doesn't like the thrill of a scratch-off? This project doesn't require many tools, but it does take some time — so, you'll want to plan ahead.
Try some baby trivia. A lot of people have babies, but how many know baby-related statistics? This is a great baby shower reveal game if your family loves to learn.
Make a gender reveal piñata. Piñatas are always a great way to reveal big news. (Just make sure you don't take out any 2020 aggression on the pinata, especially a homemade one.)
Decorate bibs. Babies are messy, and you'll need a lot of bibs. You can buy some in pink or blue, or just standard white to let your guests write something funny or meaningful. Bonus: This can also be a baby shower game idea.
Collect a jar of baby name ideas. Ask each guest to write their favorite name that they don't plan on using. Ask them to write down girl names if they think the reveal will show you're having a little girl, or boy names if they're #TeamBlue. The results will give you some ideas while learning more about your friends and family.
Create a diaper pong board. Not only is this easy, but it's actually a lot of fun. Guests can choose to throw in blue or pink balls, and you can see which guests score best.
Vote with a diaper ballot. Everyone loves to guess, so have your party guests submit their gender guess on a diaper. Before you reveal your child's gender, count up the votes and announce to the crowd what the majority vote was. If the votes match the actual gender, have everyone take a celebratory shot. If they don't, no shots — but hey, it's still definitely a celebration.
Bow tie gender teams. Some party guests take gender reveals very seriously and love being "team girl" or "team boy." Get everyone in the playing mood by handing out bow ties at the door that are pink and blue. Have them pick their team. This is also a great way for your guests to spark up a conversation. Once you reveal the answer, there will be Super Bowl-level excitement for the winning team (and probably the losing one, too). Everyone's just happy you're having a baby!
Stashes or lashes. Some men have no idea what it's like to put on lashes! And some women don't know what it's like to have a mustache. So it's only right we make a game out of it. Buy a few lash strips and fake mustaches and beards. Split the team into boys versus girls. The men must glue an eyelash onto each of their teammates while blindfolded. On the girl's team, they will have to paste fake mustaches on their teammates while also wearing a blindfold. The first team to be lashed or stashed up, wins! The pictures for this will also be amazing.
Movie Reveal. Are your friends movie buffs? Print out a page from a movie and leave it up to your guests to figure out the title of the film. They get one hint — the title has the word blue or pink in it.
Erupt a volcano. It's time to break out your fourth-grade science knowledge and build a baking soda volcano. Instead of having conventional centerpieces like flowers on the tables, put a volcano on each one instead. Have vials of vinegar on standby for the actual reveal. And just in case you forget how to make your paper mache masterpiece, put a glass container in the center of your volcanoes. Add two tablespoons of baking soda, a tablespoon of dish soap, and a few drops of pink or blue food coloring. As the guest pour their vials into the volcano, the gender of the baby will erupt. Based on the prehistoric nature of volcanos, you can make the theme of your shower dinosaurs or based on the beautiful places that have them like Indonesia or Japan.
Pinata. You can never go wrong with a pinata! Whether it's a birthday party or your gender reveal extravaganza, it's a great way to end the night. Your guest will love taking turns whacking the paper mache mystery. And when someone busts it open, it can either explode pink or blue confetti or you can fill it up with pink or blue candies.
This article was originally published on