George And Amal Clooney Donate $500K To March For Our Lives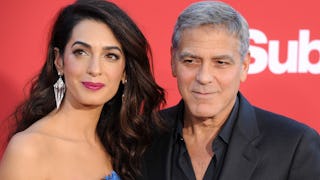 Image via Gregg DeGuire/WireImage/Getty Images
The Clooney family is planning to join Parkland survivors in Washington on March 24th
In the aftermath of last week's horrific mass shooting at Marjory Stoneman Douglas High School in Parkland, Florida, student survivors of our nation's latest gun-related tragedy are organizing the March for Our Lives rally. It's a plea for common sense gun control set to take place in Washington, D.C. on March 24th, and the event just got a huge financial boost from none other than Amal and George Clooney.
Amal is an international human rights lawyer and George is well-known for putting his money and time behind a number of important humanitarian causes. That's why as amazing as it is to hear that the couple are donating $500,000 to cover costs for the March for Our Lives rally, it's not really a surprise.
These two are simply good humans.
In a statement shared on Twitter by the rally's account, Clooney says, "Amal and I are so inspired by the courage and eloquence of these young men and women from Stoneman Douglas High School. Our family will be there on March 24 to stand side by side with this incredible generation of young people from all over the country, and in the name of our children Ella and Alexander, we're donating 500,000 dollars to help pay for this groundbreaking event. Our children's lives depend on it."
The Clooneys became parents to their infant twins last year, and although they have a history of giving to many charitable causes, it seems parenthood has made this one deeply personal. So much so that the Clooney family will not only help fund this event, they're actually showing up to walk with these teens.
The March for Our Lives is not only taking place in D.C. — there will be marches in communities all over the country where citizens can voice their support for common sense gun control laws. "People are saying that it's not time to talk about gun control. And we can respect that, (but) here's a time: March 24 in every single city," student Cameron Kasky, a 17-year-old organizer of the march and survivor of the shooting, said during an appearance on ABC News' This Week announcing the event. "We are going to be marching together as students begging for our lives."
As shameful as it is that this kind of march even needs to happen, it's heartening to see so much support for these incredible kids who are demanding change where adults haven't been able to achieve it.
If you'd like to donate to the march, there's a GoFundMe established.