Top 10 Things To Do In Georgia With Kids
by Sarah Hosseini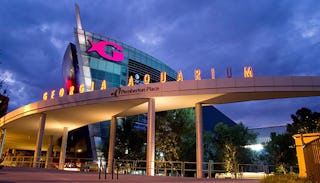 Planning a trip with kids can be seriously stressful. If you're anything like me, I just want to get through a family vacation without any meltdowns (from me or my kids), and feel like I actually had a friggin' vacation. Is that too much to ask? Is it possible to find family fun that's actually fun for everyone?
My daughters are 4 and 6 years old. We've lived in Atlanta, Georgia for a little over three years now, and have canvassed the state in search of family fun. We've been lucky to find it several times. I have a deep affection for Hotlanta and Georgia (as evidenced by my Instagram feed, #ILoveGA #ILoveATL). And I have much love for you, dear reader — too much to let you waste your time on things that will make you or your kids go crazy! Here's my list of top family activities and things to do in Georgia with kids.
Best Places to Stay in Georgia
Well, you're going to need somewhere kid friendly to sleep and lucky for you there are great options. If you're looking to add to your hotel reward points (free hotel room for another trip w out the kiddos?), the Twelve Midtown is full of urban charm (and has a pool!). The Loews Atlanta is a quick walk to Piedmont Park (and has a spa). Staying in Savannah? The Bohemian Hotel is right on the riverfront.
If no hotel is kid-friendly enough for you, and you need your own house or apartment (mini kitchen? kids get their own bedroom?), Airbnb has some of our all-time favorite Georgia greats — from historic apartments near Forsyth park to private downtown Atlanta condos to beachfront condos at Tybee Island.
How to Get Around
You'll definitely be needing a car to get around, after all, the Aquarium is a must see. Hertz has multiple locations including a pickup location at the airport.
Best Experiences in Georgia
Plan ahead, there's a lot to do here. You want the kids to put down their tech devices (same for you) and appreciate experiences that are unique to Georgia. Everything from Beekeeping 101 to visiting an animal sanctuary to touring the city's cultural spots (by car) can all be booked beforehand.
1. Georgia Aquarium
Georgia Aquarium is mandatory (I mean not really, but it is) for adults and kids visiting the area— after all, there are baby sea otters and sea lions! Get ready to say "Awww" a lot. Audience members will learn, laugh, and get splashed a few times by these charismatic creatures. Georgia Aquarium is the largest aquarium in North America with over 100,000 animals. It's home to belugas, penguins, sharks, and several manta rays. While you're there, make sure you catch the very popular and entertaining AT&T Dolphin Celebration presentation. It's a big crowd-pleaser.
2. Savannah Historic District
Savannah is an old, beautiful city with historic charm and world-class Southern cuisine. Stroll through sidewalks lined with Spanish moss trees and soak up the rich Civil War history. Learn about movies filmed in Savannah, including Forrest Gump. Get your fill of Southern flair by stuffing yourself with the best grits and gravy, greens, crab stew, and mac and cheese you've ever had. To energize (ahem, sugar up) the kiddos, visit the historic Leopold's Ice Cream parlor. The unique boutiques and antique shops will please the shopper of the family. And if you like to be spooked, don't miss the ghost tour at night.
Quick note: For parents who like to have a little dranky drank, you can take your cocktails to go. That's right, street sippin' while sightseeing with kiddos. Order a cocktail at a restaurant, and ask for a to-go cup—game-changer. Just don't act like you did on your college spring break please.
3. National Museum of the Mighty Eighth Air Force
The military museum is only 15 minutes away from the heart of Savannah. History buffs and World War II enthusiasts will enjoy this gem. It's well-laid out and relatively small (as far as museums go). The guides are super helpful and knowledgeable, and there are engaging exhibits and education for all.
4. Atlanta Botanical Garden
Transport yourself out of the hustle and bustle of Atlanta and into a breathtaking (nose-sniffing) journey of olfactory delights. The gardens are conveniently located in the middle of the city, but you won't see a single car or hear a single horn.
Colorful flowers and lush foliage line the winding paths under a huge canopy of trees (Note: Those paths are paved and stroller accessible). Don't skip out on the Earth Goddess—she's a brilliant piece of plant art. If you want to experience the beauty and splendor of orchids, head to the conservatory. For the younger kids, visit the Children's Garden where the kiddos can run free through the Butterfly Maze, hang out in a treehouse, and search for frogs. If it's a hot day, bring your swimsuits, swim diapers, and towels to take a splash in the Sunflower Fountain. For older kids, there is a scavenger hunt.
5. Martin Luther King Jr. National Historic Site
This place moves me to tears. It's a profoundly beautiful and emotional experience. Walking the famous Sweet Auburn Historic District streets in Atlanta's Old Fourth Ward is like traveling back in time. The neighborhood was developed and segregated under the Jim Crow laws. It includes the birth home of Martin Luther King Jr. and the famous Ebenezer Baptist Church, where both Martin Luther King Jr. and his son were pastors.
The "I Have a Dream" International World Peace Rose Gardens display beautiful quotes and sentiments about peace on plaques. Walk alongside the footsteps of some of the most courageous civil rights pioneers on the International Civil Rights: Walk of Fame. There is also a tribute to Mohandas Gandhi. This was a fantastic opportunity to talk to my kids about diversity, equality, and above all, love.
Big Note: It's all free. Admission, parking, tours, etc.—all free.
6. Anna Ruby Falls
Only a 1 ½ hour drive from Atlanta, nature lovers will enjoy hiking the paths (there are a few to choose from depending on your skill level) up to these beautiful falls in the Chattahoochee-Oconee National Forest. For those with smaller children, there is a ½-mile paved path from the parking lot that leads to two viewing decks. Admission to the park is a few bucks. After filling up on nature, consider exploring nearby Helen, Georgia. It's a unique mountain town in the Blue Ridge Mountains, with a Bavarian flair.
7. Center for Puppetry Arts
Back in Atlanta, experience a real cultural treat through puppet performances. The puppets are exquisitely made. The shows are well-produced and highly entertaining (with adult humor sprinkled in). After the shows, children are invited to make puppets in a special art studio, which is included in the price of your show ticket).
8. Piedmont Park
Act like a local by renting a bike and taking a ride through Atlanta's in-town urban park. Think New York City's Central Park, but smaller. The park has four walking and jogging paths. There are also playgrounds, picnic areas, and swimming pools are open in the summer. Check the calendar before your visit because there are great festivals and events there all year round.
9. High Museum of Art
Art lovers of all ages will adore a day at the High, which offers free guided tours (with admission) for families on Saturdays and Sundays. The guides engage the children in art that they'll actually be interested in. They ask them to make observations and how certain art makes them feel. The guides explain the artwork in ways that children can understand. If you are trying to instill an appreciation of art into little ones, don't miss one of these tours. They start at 2 p.m. Check the calendar because there are museum events all week long for kids, including opportunities for the little ones to make art.
Now for the adults, the permanent collection at the High is impressive with some of the bigger-named artists like Claude Monet, Camille Pissarro, and Jean-Baptiste-Camille Corot. The photography section is probably my favorite. Many prints on display show pivotal moments in history. Prominent contemporary photographer Vik Muniz is featured in the collection.
10. Ponce City Market
This is another "act like a local" spot. Ponce is an urban food hall with a cool, modern vibe. The food is contemporary with creative touches. Foodies rejoice! The market also includes big anchor retailers and smaller eclectic boutiques. Parking is super easy and plentiful. You can make a whole day out of it by hopping over to Atlanta's beloved BeltLine right across the street from the market. The BeltLine is a combination of rail, trail, green space, housing, and art. If you have a few hours to meander around, let the kids burn off some energy on the BeltLine's trails or on one of its many playgrounds. You can also stop to hear some trail music from one of the many BeltLine performers.
Whatever your thing is—whether it's history, food, culture, or nature—you'll be able to find it in Georgia!
Best Things to Pack For a Trip to Georgia
A few essentials can make your trip to Georgia even breezier. Pack a roomy yet chic duffel that can hold everything from a spare change of clothes (kid spills happen!) to ever-necessary snacks (allll the Goldfish) to your laptop (in a separate safe space, ofc) for last-min work emergencies. And if you've got multiple kiddos sharing one suitcase, these pretty packing cubes are a dream come true to keep everyone's stuff separate. I always bring a luxe sleep mask when I'm traveling: Mama needs her beauty rest and a hard core night cream. I make sure to tote along my kids' favorite water bottles, too—these stainless steel cups help ensure we're not throwing away lots of single-use plastic and straws while we're eating out. I also swear by the Inglesina Fast Chair for the baby, a hook-on chair that makes restaurant dining about 100x simpler. With Georgia's super sunny weather, I always bring a sun hat to protect my skin—this one has a foldable brim so it's super packable. And you won't find me without at least two tubes of Supergoop's Everyday SPF 50 sunscreen for extra sun protection, plus their 100% Mineral Sunscreen Spray for the babes.
Although we only recommend picks we really love, we may earn a commission on purchases made through links from our site.
Sponsored by Georgia Aquarium. Buy tickets before you go!
This article was originally published on