Advice From a Woman Who Never Thought She'd Get Breast Cancer: Get Your Mammogram ASAP
by Rachel Garlinghouse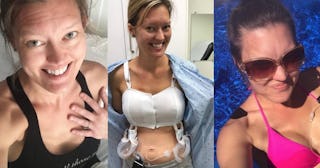 Rachel Garlinghouse
I was 35 years old when I was diagnosed with breast cancer. I wasn't "supposed" to ever have it. But cancer doesn't care about your age, sex, socioeconomic status, education, or race.
My youngest of four kids was still an infant. I began to notice that any time I picked her up, she rested her hand on my upper right breast. When I would set her down, the area would be tender. And it grew increasingly worse after removing my driver's seat-belt or cross-body purse.
I went to my gynecologist who confirmed there was a small, palpable mass. She ordered a mammogram and ultrasound. I promptly scheduled and went in for the tests, and my results came back within 48 hours.
There was definitely a mass, but it didn't appear to be problematic. Though it was hard to tell for sure. Later, one of my radiologists told me that looking for cancer in dense breast tissue via a mammogram is "like looking for a snowflake in a snowstorm."
I proceeded to see a breast surgeon who insisted we do a biopsy. I wasn't too worried. After all, I was young-ish, healthy, and I had no family history of breast cancer. I'd had two benign breast masses in the past—both removed surgically. No biggie.
Looking back, I was overly confident. Probably because I thought I knew my body, and I trusted it to keep me strong and safe. But I was wrong this time.
When I returned to the surgeon for my results appointment, I strolled in with an iced coffee in my hand. It was a sunny day, and I was certain I'd get a great report and head back into the minivan to pick up my daughter from the babysitter.
Instead, I walked in as myself and walked out as a cancer patient. As soon as the doctor said to me, "I hate to tell women this but…" I knew it wasn't good. As soon as she said the c-word, I couldn't listen. I went into a trance, only hearing scary words like mastectomy, tumor, chemotherapy, and MRI.
For weeks after being told I had breast cancer, I couldn't even say the word "cancer." Instead, I called the mass in my breast "the problem." Even when I went to meet my new breast surgeon, my plastic surgeon, a radiologist, and an oncologist, I couldn't bring myself to say the c-word–despite the fact that the very reason I was at the appointment was because I had cancer.
After an MRI and genetic testing, my breast surgeon gave me two choices. She could perform a lumpectomy—removing the mass and some surrounding tissue—and then six weeks of radiation. I would then have a breast MRI every six months for the rest of my life. Or, I could opt for a bi-lateral mastectomy and make the choice about reconstruction.
Around this same time, my genetic test results came back. I was negative for both the BRCA1 and BRCA2 genes. So why the hell did I get cancer? No family history, not gene positive, healthy lifestyle. I'm that girl who cleans with vinegar, uses VOC-free paint on her walls, buys organic foods, and only applies natural beauty products.
https://www.instagram.com/p/Bot54fGFkRn/?utm_source=ig_web_copy_link
I did a lot of research, which both freaked me out but also helped me process my diagnosis. Hours and hours and days upon and days (which turned into weeks) of research led me to this important, rhetorical question—why not me?
One in eight women—or 13%–will get breast cancer in her lifetime. This isn't a rare disease, unfortunately. Furthermore, 5% of women are like me, under age 40. And get this: Only 5-10% of women with breast cancer have the genetic mutations.
Breast cancer survivors include celebrities Hoda Kotb, Giuliana Rancic, Sheryl Crow, Christina Applegate, Wanda Sykes, Shannen Doherty, and Julia Louis-Dreyfus. Angelina Jolie chose to have a preventative bilateral mastectomy after testing positive for the breast cancer genes. Jolie infamously shocked us all when she shared her journey in an op-ed in The New York Times in 2013.
Random, right? Like who gets cancer and who doesn't? I tried to reason with my cancer. I didn't smoke (nor have I ever), I rarely drank, I was at a healthy weight. I was also angry. I'd worked hard to take care of my body—so why did cancer choose me?
https://www.instagram.com/p/Bx2H73FhYxy/?utm_source=ig_web_copy_link
I kept my diagnosis very private, mostly because I had a huge decision to make. Would I choose to keep my breasts and go with the lumpectomy and radiation, hoping they worked? Or would I choose the mastectomy and reconstruction? I didn't want the noise of other people's opinions.
Instead, I spent a lot of time researching, thinking, and praying. I made a pros and cons list, like any good type A woman does. I tried–many times–to convince myself to choose the less drastic lumpectomy. After all, it was a shorter recovery and an easier surgery. But here's the kicker — the risks of recurrence were higher.
One day, while in the midst of my torment, I looked out the window and watched my husband playing in the backyard with our four kids. It was a gorgeous, sunny day. They looked happy and free. And I was stuck in my prison—a body that was growing cancer cells. I was terrified of the thought of dying and leaving my kids without their mom and my husband without his wife. That's when I knew that I would say good-bye to my breasts. I informed my doctor of my choice—and four weeks later, I was wheeled into the operating room.
https://www.instagram.com/p/Bnt2jACFeOu/?utm_source=ig_web_copy_link
After my surgery, pathologists examined my removed tissue and lymph nodes. My nodes were free of cancer, which meant the surgery was considered a success. But I wasn't in the clear yet. I had more decisions to make about follow-up treatment—which has loads of risks and benefits. These decisions were equally as terrifying and confusing.
It's been two years since I had the mastectomy, and I don't have regrets about the choices I made regarding surgery and follow up treatment. Though I'm considered cancer-free, I live with medical trauma, anxiety, and muscle pain as a result of cancer. Every day is difficult—and life will never be the same. But yes, I'm overwhelmingly thankful to be alive and healthy.
I urge every woman to do her monthly self breast-exams, as well as schedule and attend their yearly mammogram appointments. Yes, they are inconvenient, and we are all busy. Yes, they can be expensive, though cancer costs us far more. Yes, they can be intimidating, but they are momentary. Take it from me. I wasn't supposed to get cancer—but I did. And early detection and treatment made all the difference.
No excuse you offer is more important than your health and your life. Your family needs you, and you are worth taking care of.
October is Breast Cancer Awareness Month